Last fall's allegations against Harvey Weinstein — the realization that women! Everywhere! Are being preyed upon by men! — triggered a tsunami of indignation that has swept across many industries, leaving tech, media, music, politics, even public radio exposed and wriggling.
Meanwhile, fashion sat smoking in the corner, bored. Even when directly addressed — by Sara Ziff's resurgent Model Alliance, which pushed for new protective legislation, and model Cameron Russell's hashtag campaign, #MyJobShouldNotIncludeAbuse — its figureheads remained silent, appearing largely unmoved, as though objections to predatory photographers — the kind who groan "You make me want to go to jail" while oiling the legs of their underage subjects, as Russell's campaign documented, or shove "fingers deep down in my V" to "make pics look more sensual" while their parents wait in adjacent rooms — were merely a passing trend to be weathered, like platform sneakers or the cold-shoulder top.
Down in the lower echelons, the text-message chains flew fast and furious. Surely the industry's Weinstein moment was imminent, the stylists and assistants and hairdressers said to themselves. The question was who would be the first to fall: that famous photographer who everyone knew propositioned his models? That agent who knowingly threw them to the wolves? The cruel and capricious casting directors?
Months passed, and it began to seem, unbelievably, that the reckoning might pass the industry by. When it finally arrived, in the form of a much-anticipated front-page Sunday Times article in which dozens of male models accused two giants of the industry, Bruce Weber and Mario Testino, of sexual assault and harassment, it looked different (and somewhat more male) than it did in other industries, industries perhaps less purely oriented around objectification and exploitation. There were no embarrassed resignations, no contrite statements. On the contrary: Testino and Weber both issued denials, Weber's being especially vehement — vowing to "vigorously defend" himself against the charges that, while only recently formally filed, had been in the ether for decades. Condé Nast agreed to institute a "Code of Conduct" that sounded suspiciously like workplace norms ("Recreational drugs are not permitted"), and Vogue editor and Condé Nast artistic director Anna Wintour put the company's relationship with both photographers "on hold." Not exactly Time's Up — more like Let's Give It Time. And unlike their counterparts in the entertainment industry, fashion's celebrities leaped to the defense of the accused. "#istandbyhim," Kelly Klein posted on Weber's Instagram, where his denial received 4,692 likes to his main accuser's 846. "Thank you for being the man friend partner artist photographer u are," added Donna Karan. "Bruce is an incredible artist and inspiration," said model Elaine Irwin. "In my experience he has always been absolutely professional, kind and respectful to everyone on his set." "For me, working with Bruce has always been a joy," Isabella Rossellini chimed in. "Bruce Weber is an artist thru and thru," said Christie Brinkley. When Weber posted a picture of his dog the day after the Times article went up online, former CFDA executive director Fern Mallis responded with "paws," "heart," and "thank-you hands" emoji. Vogue editor Lisa Love sent him an "xx." "It's getting out of control this going after people saying they have been sexually harassed," one model scout wrote on Instagram. "What a load of crap. I would be more than happy to send models for Bruce to shoot! Makes me nervous that I'll get sued next! Ha ha."
It's understandable, in a way, that fashion would react like this. That industry more than others has experienced this kind of reckoning before: back in 1988, when 60 Minutes did an exposé, and in 1999, when a BBC documentary showed a top Elite executive soliciting sex from a teenage model, and in 2009, when Ziff's documentary, Picture Me, aired the first allegations against Terry Richardson. While in each instance brief periods of hand-wringing ensued, the grievances were never taken particularly seriously. "It's been well known for decades that sexual abuse of models is a pervasive problem," says Ziff, whose film the Times, in a review, called "worthless as social commentary." "It was always accompanied by this sneering sense of 'Oh, models, beautiful people, they have it so hard,' " she says. "The issue is not just the individuals who've abused their power, but also the industry's enabling culture and lack of accountability, and the sense that this kind of predatory behavior just comes with the territory." This one, they expected, would just as easily blow over. "No one's nervous," one agent at a top firm told me. "Everyone thinks they're untouchable. Because it has been going on so long."
—Jessica Pressler
"Do you have to have sex with your bank? No."
Casting Director | James Scully
"Models are treated like shit. Are things still bad? Yes. In Paris, there was a big designer whose stylist was dying to have this girl, but she failed her health exam. So that stylist demanded the agency get that girl to another doctor who can pass her.
I'm like: 'Why are we doing this? Why would you do that to a girl?'
If you go to get a bank loan and go to buy a car, is there any reason that sex is on the table there? Do you have to have sex with your bank? No. So to be honest, it shouldn't be there in fashion. I wish people would understand that.
And just because people take highly sexualized pictures, just because some girl posed for an overly sexualized picture, that doesn't mean she is who that picture is. It's a complete insult to anyone who has ever been put in a compromising situation to say, 'Anyone can just get up and walk away.' That's not true.
Designers think that kids walk off the street and they're ready — they're not. Nothing about them is ready. They are unaware and not ready for exploitation. By using so many people under the age of 18, who have not been through puberty, who have not been to school, who are not mentally or physically equipped — that is the thing that has not stopped. That's the thing that's not going away.
We are in a business that is supposed to exalt women, and it is filled with people who don't like them, and especially a lot of women who don't like women. Everyone is like, 'Fashion doesn't need gatekeepers anymore,' but we do. Without gatekeepers, this is what we're left with."
"All you have to give is your body."
Model | Louise Parker
"During fashion week, you go to maybe ten to 15 go-sees a day, if you can make it. They're crazy. All they ask of you is 'How tall are you?' 'Give us your walk … What shows did you do last season?' 'Okay, great, thanks, bye.' Nobody is there to ask, 'How are you … Who are you?' If you think of it like an interview for a job, you go into it laying everything out on the table about what you've done and what your experiences are, but with this, it's really just about looking at your body.
The only thing you can do is be appeasing and enthusiastic. And that's where the power dynamic comes in, because girls just want to please whoever they are working with and to walk away leaving a good impression. It's really hard to do that when all you have to give is your body — you're not giving your brain."
"From the moment you get a contract you are being stolen from."
Fashion Producer | Anonymous
"From the moment you get a contract you are being stolen from. The contract says, 'Get a lawyer.' No one gets a lawyer. I have seen most models sign a contract in under four minutes.
They look around the office, they see skyscrapers, they see pictures with famous photographers. What are their options? 'Do I want to go back and spend my summer in my hometown? Or do I want to go to Milan and China and work with Calvin Klein and Bruce Weber, maybe buy Mum a house one day?' What's their negotiating position?
So, okay, they sign. Models from outside the U.S., they need a work visa. The agency says, 'We'll sponsor you,' but the model can't understand the contract, so she starts, say, $3,700 in debt. For a 17-year-old girl from Ukraine who'll shoot editorial (unpaid) or walk runway shows where the designer wants to pay in 'trade' (a piece of clothing that doesn't fit), that's a lot of debt. As a model, the only people you know are the bookers (agents) that you just met, so you don't have a place to stay. (If you're lucky, a nice booker might let you crash on his couch, but that's another story.) So the agency puts you in one of their 'model apartments,' far out in Brooklyn or wherever. Let's say the two-bedroom apartment costs the agency $2,500 a month. They'll 'charge' a model $1,800 per month by adding it as debt, and then they'll cram eight models into the apartment. (The agency doesn't show their mortgage or rental agreement, but one can imagine where they net out.) You're just told like, 'Here's a key and a subway map, you're welcome.' Oh, and the commission structure is interesting. When a brand or casting director makes an offer to a modeling agency, they'll quote the daily rate as, say, $1,000 plus the 20 percent agency fee. But then the agency takes another 20 percent as their 'commission' from the model. So in the end, the model makes $800 and the agency takes $400; that's a 33 percent commission! (In England, they recognized that taking commission from two opposing interests in a deal is 'double-dipping,' so they made it illegal for model agencies. Not here.) And if a model questions it, they're told, 'Don't worry about the agency fee; if we don't take it, the brand will just keep it.' And if you want to fly home to see your family, or if you have to go to the hospital, you're fucked. Health care may be free where you're from, but not in New York."
"The entire industry revolves around desirability and seduction."
Co-founder of Visionaire | Cecilia Dean
"Fashion's complicated because the entire industry revolves around desirability and seduction. I think when you're dealing with young models, there is the potential to have a lot of confusion because there are a lot of mixed signals and some people are going to exploit that situation.
Plus modeling is such a strange industry because it's not like if you work hard, you'll be rewarded. In other jobs, if you work really hard, you will be rewarded; there's an end goal, and if you put in enough effort and time and dedication, you'll reach that end goal. That just doesn't exist in modeling. It's not a job for longevity, and the tricky thing about careers like that is, like, you never know how long you'll still be working, and so your impulse is to accept every single job that comes your way, accept every opportunity, because you just never know if it's going to be your last."
"People in the industry are blind to the fact that you are staring at someone who is ill."
Makeup Artist | James Kaliardos
"I do think people in the industry are blind to the fact that you are staring at someone who is ill. A lot of girls that start out when they're younger are really naturally thin. But then as you age, your body shifts, and so some girls who are trying to stay that thin do become anorexic. Really, there has to be help brought in when the pressures of the job are to be thin or they won't cast certain shows, they won't work, and when you see girls that have legs that are as thin as someone's arm. There's an eating disorder going on, and if people can't admit that, then I think it's bizarre, because everyone sees it, from the agent to the casting person to the photographer to the person dressing them.
I recently did a shoot where we spent the morning talking about Weinstein and then we were doing the shoot and they asked this younger-than-18 girl to go topless. I've been thinking about it every day since it happened because it's like, What don't people get? I was like, 'You can't ask this girl to do that, you just can't.' It was like I was talking to a brick wall. No one could understood the words I was saying. It just made me so sad because, you know, I kind of think she should have had someone on set with her, she should have had someone from the agency or she should have had her mother.
I remember a long time ago talking to three girls who were tired at the end of a busy day. They were really depressed, and I was like, 'What's wrong?,' and they were like, 'Uh, we've got to go to this party,' and I was like, 'What do you mean?' 'The agency wants us to go to, like, this businessmen party.' And I was like, 'Why?' And I'm like, 'You do not have to do that,' and they were like, 'No, we do. We have to do that.' And I'm like, 'No, you don't. If it's not about modeling, which it doesn't sound like it is, you certainly don't have to go be, like, 'prostituted' out to his party like that.' That was horrifying to hear."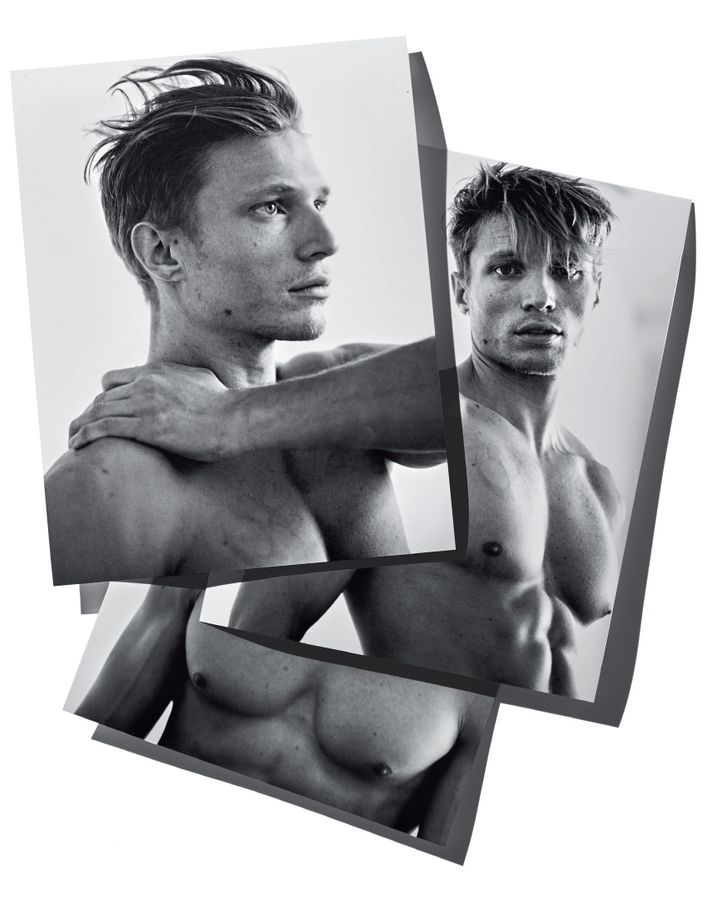 "It was almost like an out-of-body experience."
Model | Jason Boyce
"I couldn't sleep the night before. I was like, I'm going to shoot with Bruce Weber, I'm going to shoot with Bruce, oh my gosh. Like my star could turn, I could take off from here. And everybody's like, 'Oh, you're shooting with Bruce, that's awesome.' And then it happened, and then it was just like, What is happening? It was almost like an out-of-body experience. When I got back to my apartment, all the guys were there, and it's almost like they all kind of knew. But no one wanted to talk about it. I thought for sure I'd take it to my grave.
It's been funny — since the lawsuit, there's been a few photographers that have reached out to me, like, 'Oh, you're so brave, this is so awesome. I would love for you to come to my studio and shoot with me.' It's like, 'No, thank you. Done with that.' "
"Let's look at diversity."
Photographer | Alexi Lubomirski
"I used to find it fascinating how the photographer might say something to the stylist, and I would notice how it affected the model who was standing on the other side of the room and heard what they were saying. It's the clichéd story of the photographer or the stylist saying, 'Those jeans make her look fat,' and the model takes that upon herself. It comes across as a joke, but I tell my assistants when you have a model on set, you have to treat her like a human being. More often, they are treated like props or coat hangers.
And let's look at diversity. In the last five years, magazines have started to open up, but it's a super-slow process. For a one-girl story for a magazine, I would give a list of ten girls to see if they were available, and automatically the first one to be dropped off the list would be the girl with the darkest skin: 'Yeah, we love her, but she's too ethnic for this.' You end up with the same three blonde white models. Their argument was that it came down to dollars. 'We need to sell magazines or clothes, and we know, because we've done tests, if we put this darker-skinned girl on the cover, we're going to sell x percent less copies.' This was ten years ago when someone told me that. I thought that was ridiculous! If we decide that big-polka-dot pajamas are the look of the season, we can make that happen. So why are we pretending to hide behind this thing where we are saying, 'We can't put that girl on the cover, because it won't sell copies.' You can make it sell copies. You can create that movement!
The most important thing is that when we reach the end of our career, on our deathbed, we have to look back and say, Did I stand on the right side of the fence? Or did I just style or take pictures and do hair on a million different shoots and coast through life?"
"Personally, I always disliked getting naked."
Model | Karen Elson
"Models are at once worshipped and treated as a replaceable commodity. Personally, I always disliked getting naked in front of a large group of people during Fashion Week. It's one thing before the fashion show, but once the show is over and all the fashion community and press are coming to congratulate the designer and there are 20, 30 models hurrying to get dressed, I've always thought we need better protection there. Because the girls are literally naked around a bunch of strangers. But often young, new, and lesser-known models are made to feel they have to deal with madness and not stand up against mistreatment because they'll be canceled or labeled difficult."
Interviews by Alexa Tsoulis-Reay and Jessica Pressler
*This article appears in the February 5, 2018, issue of New York Magazine.