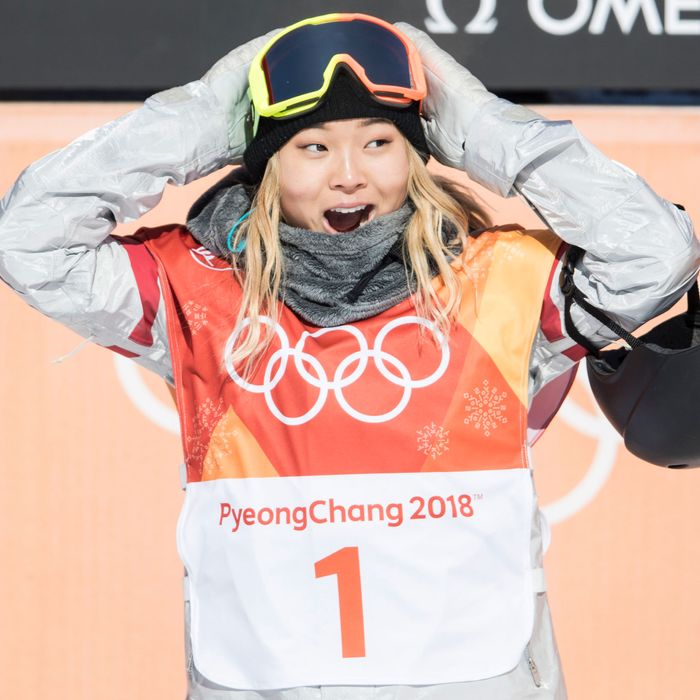 Chloe Kim.
Photo: XIN LI/Getty Images
Welcome to Good Sports, a daily bulletin on the Olympics viewing experience by Kelly Conaboy.
Last night was extremely tense. Tom Schwartz had to write a check for $25,000, Jax wasn't allowed to go to World Dog Day (an event — you better believe — he enjoys), and it was BOTH Stassi's and Ariana's birthday. And Lisa didn't go to either birthday party! Electrifying. Judges, who will take home the gold? Let's see. They're calculating. They're calculating. They're calculating. Ah, of course, it's — CHLOE KIIIIIIIM!!!!!!!!!!
YEAAAAAAAAAAAAAAAAAAAAAAHHHHHHHHHHHHH!!!!!!!!!!!!!!!!!!
I have to be honest because honesty is everything and my good name is all I have: Last night's episode of Vanderpump Rules was much more tense than last night's episode of women's halfpipe. Obviously 17-year-old Chloe Kim was gonna win, she is the best. Like anyone transcendently good, she is so good she makes you feel like you can do what she's doing, too, with her flips and the board, because look at how easy it looks. But of course you cannot, because you spent your life here, on a computer, dying, with me. Did we know she would beat her already-gold-winning score (93.75) on her glory run (receiving a 98.25)? No, but we would have bet money on it if anyone had asked us to bet. Did we know her father was going to hold a heartbreakingly endearing laminated sign?
No, but if we were given a yes or no choice I'm sure we would have said yes. Tom Schwartz writing out a check to Lisa Vanderpump for $25,000, on the other hand — that was touch and go until the very last moment. And I'm still worried about it!
Elsewhere, there was mixed doubles curling. Mixed doubles curling made its debut as an Olympic event this Olympics, and you might wonder what distinguishes it from regular curling other than the obvious (two players). I can tell you that it's a faster version, played with eight ends instead of ten, which I support. Otherwise here is what it says on worldcurling.org:
* The first take-out is allowed with the fourth stone played in each end

* Before that, teams are not allowed to hit either their opponents or their own stones out of play

* If an end is blanked (neither team scores), the team that delivered the first stone in that end shall have the decision on placement in the next end

* Teams have 22 minutes of thinking time each

* Games are 8 ends long, with an extra end played to break ties
Huh. I don't know what almost any of that means, but last night the husband and wife team of Aleksandr Krushelnitckiy and Anastasia Bryzgalova won the bronze doing it for Olympic Athletes from Russia in an 8-4 victory over Norwegians Kristin Skaslien and Magnus Nedregotten. Congratulations to them and their stylish O.A.R. uniforms.
Whenever there's curling (during the Winter Olympics), people are always like — "Would I be good at curling?" The Olympics makes people wish they were competing at the Olympics because life is a steady mix of regret and narcissistic desire, and curling is almost certainly easier than doing a flip on snow, so — "Would I be good at curling?" Well. No, I don't think you would, because your little feet would be too slippy on the ice, and your arms are unwieldy noodles, and if your mind were able to comprehend the rules of curling you would have already been visited by a curling angel in a dream, informing you of such.
What I want to know is, though: Would Chloe Kim be good at curling? That's a good question. Probably better than most people, but not that great immediately. But it's up for debate.
A final thought I'd like to leave you with is: Downhill skiing is too fast.