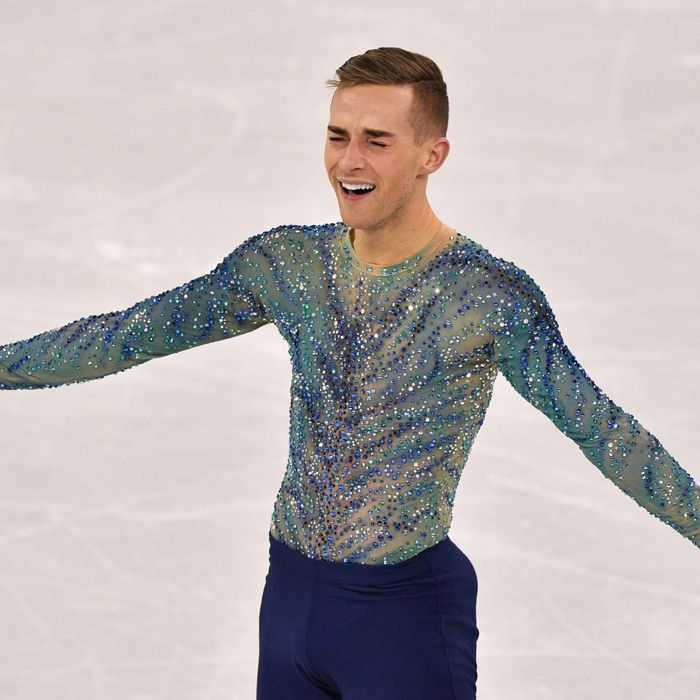 Adam Rippon.
Photo: MLADEN ANTONOV/AFP/Getty Images
Welcome to Good Sports, a daily bulletin on the Olympics viewing experience by Kelly Conaboy.
Our time with the 2018 Pyeongchang Winter Olympics has come to an end. Well. Except for the Closing Ceremony — that will air on NBC during primetime tonight, even though it has come to an end technically. (You can read spoilers here.) But, pretty much, our time with the 2018 Pyeongchang Winter Olympics has come to an end. I would say it feels too soon, but that would be a lie and I am an honest woman: It feels just right. They've been going on for a long time and I can no longer handle the stress, nor the McDonald's commercial that briefly features Todd Louiso from High Fidelity. I love you, Olympics, and I release you.
But before we say our final good-byes, I think it's important to take a moment to reflect on what we've learned. How did the Olympics change us? What will we carry from these moments? I've taken some time to compose a brief list of lessons that — I think you'll agree — are the lessons we've learned, together.
1. Good luck poetry isn't written to be ignored.
You know who you are, if this lesson is for you. You may remember that way at the beginning of the Olympics, Nathan Chen was thought of as a guy who was going to do pretty good instead of a guy who was going to do … uhh … [tugging at collar] [sweating]. It's fine, he's young, he got a bronze medal in the team event, and he did all those quads. But why did he perform badly? And then why did he do all those quads? Because you forgot to say your good luck poem for him, and then, after prompting, you remembered. Please think about this going forward and apologize to Nathan Chen, if you see him.
2. There should be more ice sex and cursing during primetime network TV.
I suppose this is more of a lesson for those in charge of television. Why is there only ice sex during the Olympics? And why is there enthusiastic cursing almost never? It's time for a change. Canadian ice dance team Tessa Virtue and Scott Moir taught us this lesson, as did Red Gerard, whom I love. Please heed it.
3. Olympic viewing should come with with one shot of tequila.
I suppose you could provide your own, but ideally the IOC would provide one shot of tequila per of-age, nonsober Olympic viewer during tense events, like ice skating, or when you really need Lindsey Vonn to get on the podium, or during skeleton.
4. Adam Rippon is just so great.
Isn't he? I'll miss him. I wonder where we'll see him now. Oh my god. Imagine if he hosted Live! with Kelly Ripa. That would be so great. Oh my god, I just realized it would be Ripa and Rippon.
5. You probably wouldn't be good at an Olympic sport except maybe skeleton.
I do think if the time weren't displayed at the bottom of the screen, a normal person could compete in skeleton and a non-skeleton-expert watching would be like, "eh, yeah it looks like whoever this is pretty much knows how to do skeleton." Otherwise I don't think you should attempt to compete. Unless you want to be next Olympic's Elizabeth Swaney, which you may, and if you do of course you have my support.
6. Love conquers all.
Of course — the theme of the Olympics.