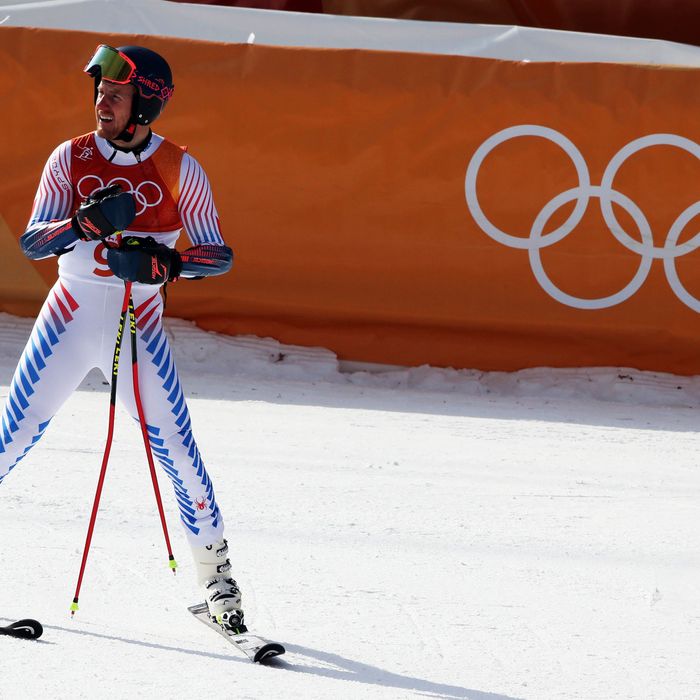 Ted Ligety.
Photo: Christophe Pallot/Agence Zoom/Getty Images
Welcome to Good Sports, a daily bulletin on the Olympics viewing experience by Kelly Conaboy.
How would you handle not getting a podium placement at your chosen Olympic sport? It's something to think about, in case you ever go — especially considering the higher-than-predicted amount of American non-medal getting at this Olympics. At the moment the U.S.A. has five gold medals, three silver, and two bronze, but, according to USA Today, the U.S.A. also has eight fourth-place finishes, nine fifths, and seven sixths. ("At least I'm not fourth," Lindsey Vonn said after placing sixth in the women's Super-G.) Damn.
So, it's important to consider how you'd handle it. Last night two-time Olympic gold medalist Ted Ligety had a 15th-place finish in men's giant slalom. This came after he finished fifth in alpine combined, an event in which he took home gold in 2006, and after he did not finish the Super-G. Now, he says, he will probably not compete in slalom later this week:
"This is probably it for me (at) these Games. I was thinking about doing the slalom but we tried to figure out where I'd start, and it would be in the 70s or 80s, which is really far out to have a chance to have a good run at it."
It's difficult, but it's also always nice to decide you're not going to do something you were previously planning on doing, be it coffee with an acquaintance or men's slalom at the Pyeongchang Winter Olympics.
After his disappointing finish, Ligety posted this on Instagram:
"He is the bright spot on the day. Jax could give two ____s that daddy sucked at work today," he wrote. (Context clues suggest Jax is his son's name and that he is not talking about Jax from Vanderpump Rules, however I believe Jax, né Jason, from Vanderpump Rules also would not care.) This is a good way to handle not getting a podium placement at your chosen Olympic sport. Other nice things to remember, in case you do not get a medal in the future:
* You'll still get to drink coffee every morning, no matter what.
* It is likely that Vanderpump Rules will have at least two more seasons, whether you place first or fifth.
* You can buy a bouquet of flowers at many bodegas in New York City just on a whim, even if you came in last place (!) at the Olympics.
* Many good films are available to stream from the comfort of your living room.
See? It's not so bad.
I'd also like to add that on the NBC Olympics app there are sometimes little extra videos you can watch for fun, and this morning I saw one titled: "What happens to the Pooh Bears?" It's a great question I didn't even know I was wondering, and it concerns the Pooh bears that are pelted at Yuzuru Hanyu every time he competes. I'm going to tell you the answer now, so please navigate away in your browser if you'd like to keep it a delicious secret.
The answer is: They're gathered by the sweepers, put into bags, and sent to Yuzuru Hanyu. He picks a few to keep and then the rest are donated to charity.
Amazing.