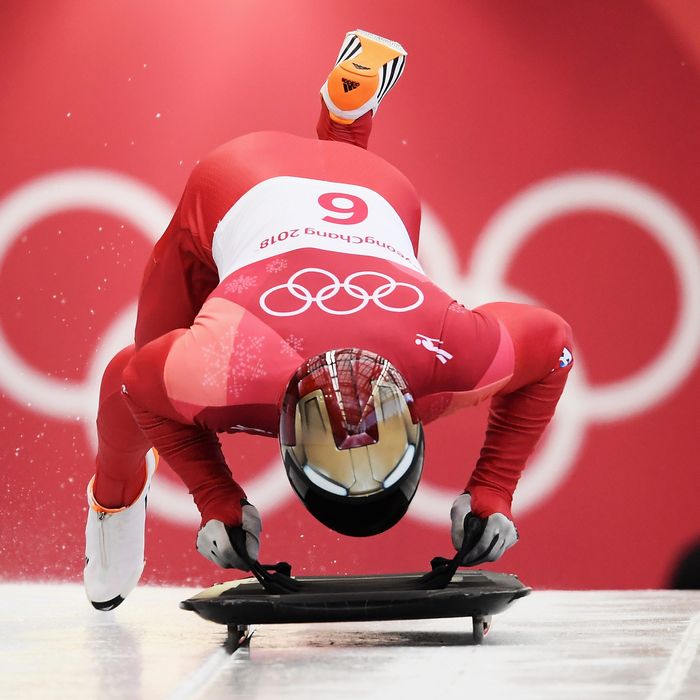 Photo: Quinn Rooney/Getty Images
Welcome to Good Sports, a daily bulletin on the Olympics viewing experience by Kelly Conaboy.
Oh my God. What a dramatic night. Mikaela Shiffrin placed fourth in slalom, failing to defend her Sochi slalom gold after a morning of barfing. ("It's something that will stay with me for a while," she said.) Nathan Chen revealed that you haven't been saying your good-luck poem with nearly enough frequency, falling during the opening jump of his short program and plunging to 17th place.
After NBC played a very rude montage about how Lindsey Jacobellis always fucks up the snowboard cross, she fucked up the snowboard cross — or, at least, she did not get a medal. After looking like she might win, and then looking like she might get second, or third, or fifth, she placed fourth. I'm sorry, Lindsey Jacobellis; the Olympics is a bitch. I still think you did a great job, much better than I would.
They all did!
Someone who actually did a great job, though, in a way that isn't just an attempt at resuscitating the spirits of our broken athletes whom we love, is Adam Rippon. He is so wonderful! I love him, and I love watching him, and I wish he could be on my TV every night. On the spectrum of Reese Witherspoon to Elmo, his excitement level is currently "Meryl Streep":
The person I want to talk about, though, is South Korean slider Yun Sung-bin. His nickname is "Iron Man," and one has to wonder whether that nickname came first, or whether he got an Iron Man helmet and was like, "Call me Iron Man."
In any case, he took home South Korea's first-ever medal in skeleton in a way that was beautiful and so exciting, prompting the Australian commentator Leigh Diffey to scream, "YOU'RE WATCHING NOT ONLY A MEDAL, YOU'RE LOOKING AT GOOOLD!!!!!" Oh, hell yeah I am! I'm looking at the shit out of gold!
"These are the moments that just make your heart feel like it's gonna explode," Bree Schaaf, the color commentator, said. Indeed. The crowd was so pumped, and I was so pumped, and now I am devoted to skeleton, and it is my lifelong passion. Do you think a person would die if they never did skeleton before and they tried to compete at skeleton in the Olympics? I was looking online to see if anyone has ever died doing skeleton and the answer is … not at the Olympics. So.
What I will leave you with — because I watched it last night, and I am thinking about it now — is NBC commentator Mary Carillo's badminton rant from the 2004 Summer Olympics:
Remember that? God, it's so good.