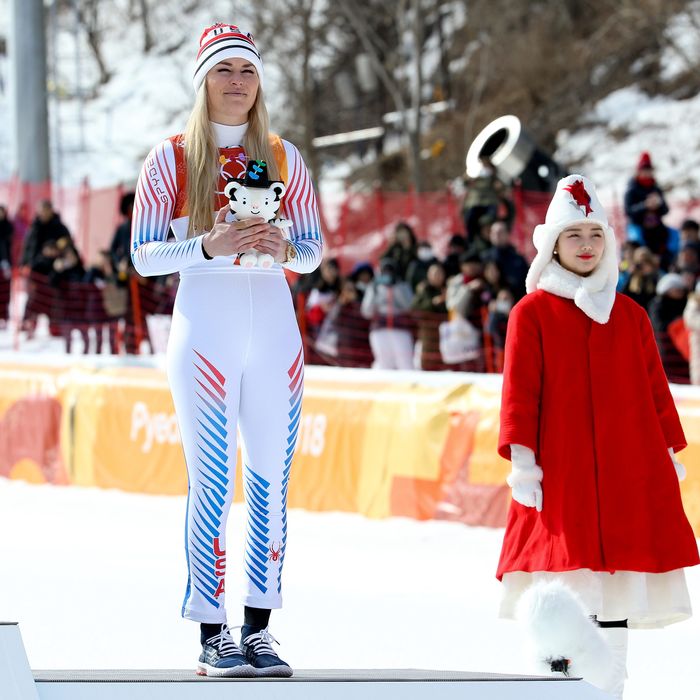 Lindsey Vonn.
Photo: Jean Catuffe/Getty Images
Welcome to Good Sports, a daily bulletin on the Olympics viewing experience by Kelly Conaboy.
Lindsey Vonn took home the bronze in her final Olympic downhill race yesterday. Thank god! Man, it was tense. First she had silver, and then she had bronze, and then she kept bronze. What if she loses the bronze? is what you were thinking, but luckily — for your sake and hers — she didn't. I know it's not silver, and it's certainly not gold, but it's the third one: bronze. And that's good enough!
As we were reminded over and over again, Vonn has waited "eight years for 100 seconds," desperately awaiting a time she could compete when she was not seriously injured by her unfortunate passion. She finished in 1:39.69, 0.47 seconds behind Italy's Sofia Goggia who took gold and 0.38 seconds behind Norway's Ragnhild Mowinckel, who very excitedly took silver. It was inspiring and I'm glad we were all able to watch her do it together.
Also very inspiring that her bones didn't crumble to dust, as, at 33 years old, she is the oldest female alpine skier to get a medal at the Olympics:
AHHHH! Oh, I'm sorry, I thought that was some old ghost, but it is just the 33-year-old Lindsey Vonn.
Before Vonn's run, NBC's live feed was situated on her for roughly 400 minutes while she psyched herself up, waiting for the boop-boop-boop-beep signal to take off at the gate. It was unnecessarily tense, and I hated it very much. I have enough anxiety in my life, I don't also need Lindsey Vonn's. One nice thing about this tense moment, though, was that during it we heard about how Vonn's sister texts her the lines from Kurt Russell's (Herb Brooks's) pregame speech from Miracle — about the "miracle on ice" at the 1980 Winter Olympics — before every race, and how this reminded me of when a child performed it in a video, which I will show you now:
As you can see, he did a great job and also got a "bronze medal" (momentarily viral video).