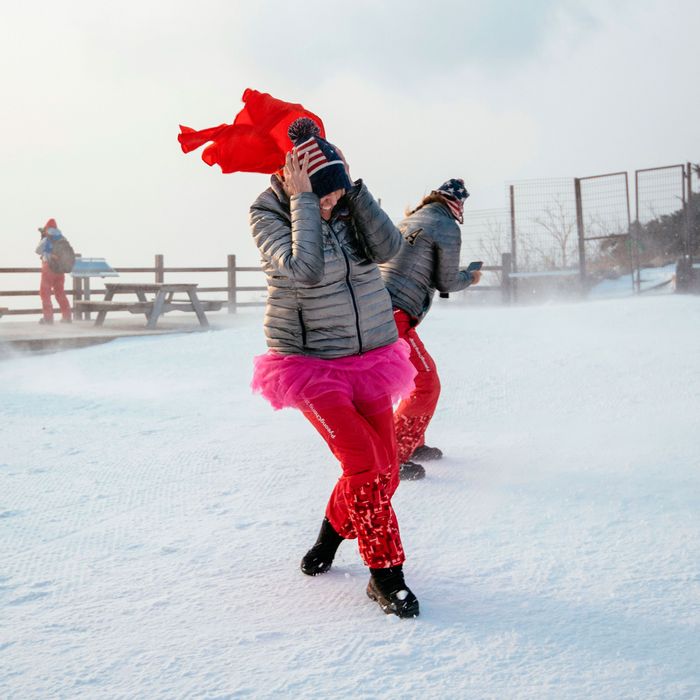 Photo: DIMITAR DILKOFF/AFP/Getty Images
Welcome to Good Sports, a daily bulletin on the Olympics viewing experience by Kelly Conaboy.
Last night, millions settled in to watch Mikaela Shiffrin's Pyeongchang Olympics debut only to have their hopes blown away like a loose snowflake on a dandelion, which is a striking simile in both its poetry and its appropriateness. The women's slalom event was pushed back 15 minutes, and then a little longer, and then a little longer, until it was finally canceled due to high winds. Damn. This is the second time Shiffrin's debut has been pushed back, after giant slalom was postponed on Monday (and moved to Thursday, allegedly), also because of high winds. Men's downhill was also moved to Thursday, and some other things were moved, too, or altered, all because of wind — stupid wind.
This has caused wind's popularity on social media to plummet precipitously, as you can see:
Certainly not "taking the gold," to put it in Olympics terms.
Noting the discussion surrounding wind's stupidity, I reached out to Dennis Mersereau, weather expert and author of The Extreme Weather Survival Manual, to ask if this wind was more stupid than normal wind, or what? Here's what he had to say:
"Wind is always stupid, running into things like it's me or something. Idiot air currents. Pyeongchang's location in the mountains helps kick up winds to begin with, but over the last few days there have been a few developing storm systems off the Korean Peninsula that caused winds strong enough to blow athletes around on their courses. It should subside over the next few days."
Thank you, Dennis, it better — or else.
As of now, there are two women's technical races and two men's speed races in the next two days, and Shiffrin is set to race three days in a row, with the Super-G on Saturday. Do you think these races will happen as scheduled? Maybe make a monetary bet with a coworker, for a little spice.