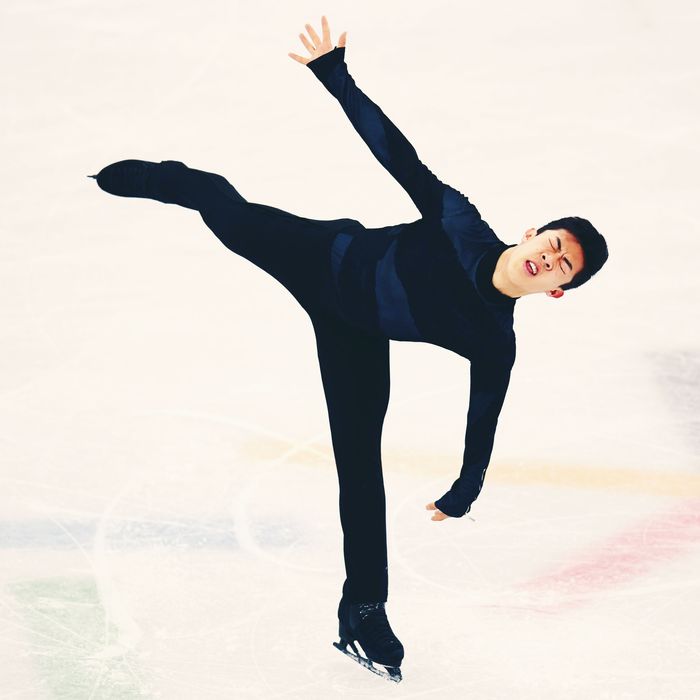 Photo: Harry How/Getty Images
Welcome to Good Sports, a daily bulletin on the Olympics viewing experience by Kelly Conaboy.
It's the Olympics, and everyone in the men's short program is falling. Nathan Chen, Paul Fentz, Mikhail Kolyada. I understand. It's important not to get frustrated with Olympians for falling because: It's winter, everything is very slippery, and in fact I almost fell on Wednesday just walking; they're doing the best the can; and we love them.
Nathan Chen, 18-year-old ice prodigy from Salt Lake City, who, in the American Idol human-interest package portion of the NBC telecast was shown ice-skating as a very tiny baby (this was my personal favorite part of the evening, aside from Tara Lipinski and Johnny Weir's commentary [for example, when Mikhail Kolyada received a score of 74.36, Tara said "That's not even 75," and Johnny said, "That score is ridiculously low — but for a good reason"]), fell while trying to complete a triple Axel. He seemed nervous after the tumble and had the face of someone who wanted to leave the ice immediately and jump into a grave — not to die, just to be alone for a little while.
Here is what the program should have looked like, from the U.S. Nationals in January:
"That was the worst short program I have ever seen," Johnny Weir said after Chen finished, adding, after a brief pause, "from Nathan Chen." He called it "abysmal" and a "disaster." Damn. Chen told NBC, "It's not a representation of who I am and what I can do. I need to work harder for the next couple of days."
Still, he completed the first quadruple flip ever seen in the Olympics and received a score of 80.61, taking fourth place and earning Team USA seven points.
Overall, I'm proud of him. And I love him.
To ensure Nathan Chen future Olympic success, please read this good-luck poem aloud three times over an ice cube or (even better) a patch of ice outside (though in this case you must be careful not to fall or you will curse the entire U.S. Olympic team, not just Chen):
Nathan Chen, good luck to you

We know all that you can do

Our ice-skating guy, you are

Yes, you are our shooting star




For us, you will win the gold

No pressure, haha, it's fine

Just take a breath and do it

Or you will disappoint everyone but mostly yourself and that is the true horror of competing in the Olympics
Thank you.