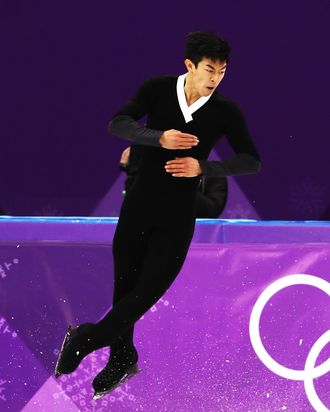 Nathan Chen.
Photo: Jamie Squire/Getty Images
Welcome to Good Sports, a daily bulletin on the Olympics viewing experience by Kelly Conaboy.
Okay. We had a little trouble yesterday, with you not doing your part in saying your good-luck poem for Nathan Chen. But it's clear now that you must have recognized your mistake and that you must have said your good-luck poem extra extra — six quads worth of extra — because last night Nathan Chen fuckin' did it more than anybody ever did it before with: six quads! Our sweet boy!
As his program began, Tara Lipinski said, "His quads are worth so much, and he has oh so many. Let's get this party started, Nathan." And get this party started he did, hitting quad after quad and never stumbling except for the one time he did. "Will he add another?" Lipinski asked right before he added his sixth. And then he did. "YES!" she screamed. "Are you kidding me?!" Johnny Weir yelled. "AHHHHHHHH!" I said, internally.
After his skate, Chen explained his decision to go for all those quads: "I have been working on it for a while. It's never really fully come together. I already fell so many times, I was like, 'I already fell so many times [in earlier Pyeongchang performances], I might as well go out and throw everything down and see what happens.'" He also told NPR's Melissa Block, "Screw it. I have nothing to lose."
Chen made Olympic history with his quads, and received a score of 215.08. This rocketed him from 17th to 5th place overall  — not a podium spot, but a good rocketing nonetheless. You've probably had a similar comeback when playing Mario Kart in the past, so I trust you know how it feels.
Japan's Yuzuru Hanyu took home the gold, making history, as well, becoming the first male figure skater to win repeat golds in the event since 1952, when Dick Button did it. Okay, yes, I know you want to, but — please do not laugh at Dick Button's name. Show some restraint, please — for the Olympics. He is currently 88 and living in Englewood, New Jersey.
Anyway, say this thank you poem today when you get a chance:
Thank you, thank you, Nathan Chen
Can we hug you? Just say when!
Six quads, that is quite a lot!
You gave it your best-est shot.
Thank you.