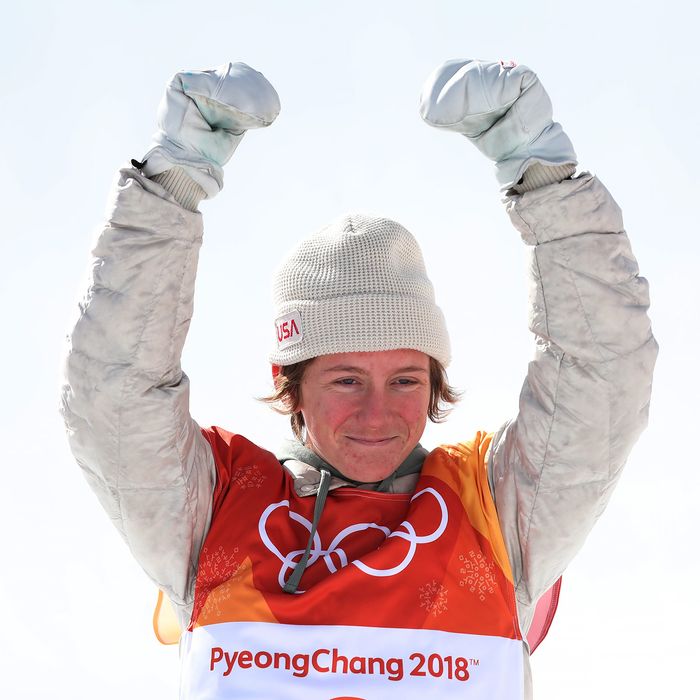 Snowboarder Red Gerard, triumphant.
Photo: Ian MacNicol/Getty Images
Welcome to Good Sports, a daily bulletin on the Olympics viewing experience by Kelly Conaboy.
If you win a gold medal at the Olympics, you should be allowed to say one curse word during a prime-time broadcast on NBC. I think that's fair. The curse doesn't have to be said during the Olympics, necessarily — in the deal I'm proposing, you're able to save it for whenever you'd like. (Maybe you want to interrupt This Is Us.) You deserve it, and I believe president and chief executive officer of NBCUniversal Stephen B. Burke and the FCC should consider it.
Red Gerard, the adorable 17-year-old child who took home the first Pyeongchang Olympics gold for the USA yesterday, certainly deserves the Curse Reward, and took it upon himself to claim it. Good for you, Red. To my ear, he said a humble and joyous "What the fuck?!" during a hug while cameras were on him after some other non–Red Gerard snowboarder failed to beat his score. Then, to the Daily News' ear, he said "Holy fuck, I won!" after he won. In this expletive reporter's opinion, these are the most charming swear choices he could have made. Another gold for the adorable Red Gerard.
The event was quite stressful. At the start of the men's slopestyle finals, Gerard was in 11th place of 12, after a pair of not-ideal runs. (You compete with your best score out of three, much like the recommended course of action for competing in the high-school dork Olympics, a.k.a the SATs.) Of course, this made the final runs very tense for me personally, even though I had not been invested in them at all before tuning in. Anything could have happened.
During Red's incredible run, he completed a "backside triple cork 1440," earning him a score of 87.16— the best yet. (The backside triple cork 1440 was first landed in 2011 by Mark McMorris, who took the bronze in this competition.) (Damn.) Each of the following snowboarders passed by safely — falling, as you willed them to — until the very last guy: Max Parrot of Canada.
Max Parrot flew through his run like a dream, landing all of his fancy tricks like it was goddamn nothing. Fuck. If you did not have the result spoiled for you on Twitter because NBC's "live" footage runs on a 30-minute delay (which makes you wonder why they did not bleep the cursing, perhaps because they've already instated the Curse Reward), this was quite stressful indeed. When Red Gerard appears in your life, as if by fate, you don't want him to place second in his competition — you need him to place first (gold).
As you know, he did. Incredible. Max Parrot received a score of a measly 86.00, taking the silver. Mark McMorris, like we already mentioned, took home the bronze with a score of 85.20.
Thank you, Red Gerard. I love you.