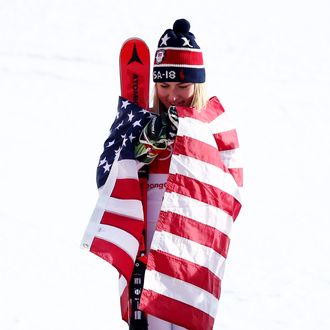 Mikaela Shiffrin, probably contemplating her next nap.
Photo: Dan Istitene/Getty Images
Welcome to Good Sports, a daily bulletin on the Olympics viewing experience by Kelly Conaboy.
Last night, the wind finally let 22-year-old Mikaela Shiffrin win a gold medal in women's giant slalom, and thank God, because I could not stand the wind's bullshit for one more second. Shiffrin skied all the way down the big hill, turning, and turning, and turning, and turning, until the end, and then she won. See?
Other than the skiing, most of the conversation surrounding Shiffrin is about her sleep schedule, because she loves to sleep, and naps, and everyone needs a "thing," for example your thing is love for the Olympic recaps on the Cut, and here's a bit about it from a recent Mikaela Shiffrin profile in Outside:
"Mikaela will nap on the side of the hill. She will nap at the start of the race. She will wake up in the morning, she tells me after the gym, at her house, while eating some pre-nap pasta, 'and the first thought I'll have is: I cannot wait for my nap today. I don't care what else happens. I can't wait to get back in bed.'"
Same, Mikaela Shiffrin, but for I think different reasons. In post-gold interviews Shiffrin and her mom, who is also her coach, have been talking about how she napped between gold-winning runs — a key to success:
"There's always a little bit of time between the first and the second run and I think I had an hour today where I could sort of lie down for an hour on a bench in corner of the lodge, the hospitality at the top. … "Yeah, I had my music on, my big headphones and noise canceling so I couldn't hear anything except my music and I fell asleep.''
I think it is respectful, in light of Mikaela Shiffrin's big win — and I am only suggesting this out of respect, like I said, for Mikaela Shiffrin, and for all of the Olympians, and for I suppose certain aspects of the United States of America, or, let's just say, for the idea of … a common humanity, or some sort of Olympics thing — that everyone takes time out today, in the middle of a task, out of respect, and takes a nap for one hour. Example tasks include:
• A project at work
• Cleaning the apartment
• Talking online
• Twitter
Or, you know. Whatever your tasks are. Stop, take a nap, and then begin again — today and every day. For Mikaela Shiffrin.
This blog post is legally binding and may be transferred via email to your boss.
Thank you.