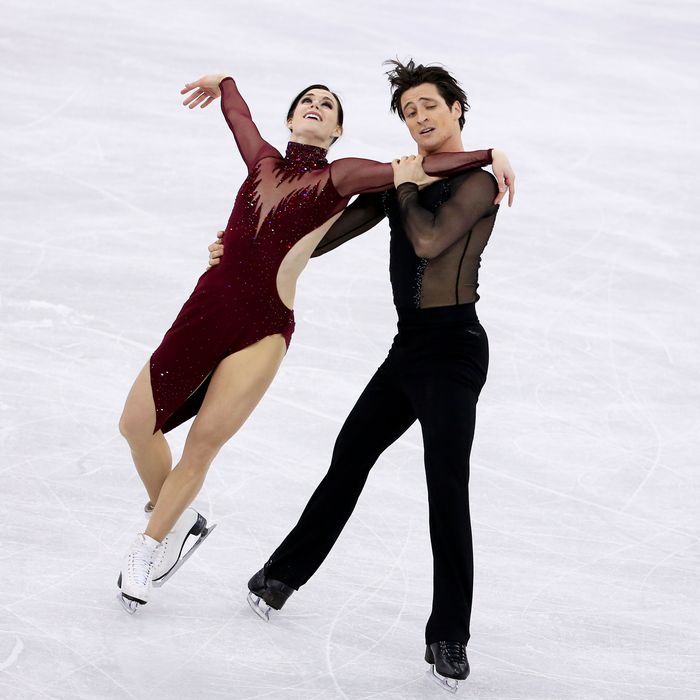 Tessa Virtue and Scott Moir.
Photo: Jean Catuffe/Getty Images
Welcome to Good Sports, a daily bulletin on the Olympics viewing experience by Kelly Conaboy.
It's a shame that outside of the Olympics the world does not typically gather as one to watch people have sex on ice. I'd suggest we do it more often, but I suppose the fact that we only do it during the Winter Olympics is part of what makes the Olympics special. Last night, Canadian ice dance team Tessa Virtue and Scott Moir won their second Pyeongchang gold medal for their beautiful and very sexually captivating Moulin Rouge soundtrack routine.
It was both the final ice dance competition of the 2018 Olympics and the final of Virtue and Moir's careers, as they now plan to retire. Wouldn't it be nice if you knew, today, that you didn't have to do the thing you do anymore, and that you ended your career being the best in the world at it? And that everyone wanted you and your ice dancing partner to be together romantically because you were so hot? Damn, that would be good. We'll likely never know this joy, but I guess we have to stay positive.
French skaters and wardrobe-malfunction champions Gabriella Papadakis and Guillaume Cizeron set a new world record with their free skate score, 205.28, after which Virtue and Moir destroyed it, tearing it to shreds with steely eyed abandon, with a new-new world record score of 206.07. (The scoring rules changed in 2010, before which scores were based on three segments rather than two — you may think of this as "reverse SATs.") Virtue called the experience "amazing," adding, "It was a special moment to come out last," she added. "It was a strong last group, there was a lot of pressure, but I'm so happy with how we performed." So are we, in a sexual way.
Of course, we cannot forget the ShibSibs, speaking of sexual — I mean, NOT speaking of it. Alex and Maia Shibutani earned the bronze with their very non-sexual Coldplay routine, receiving a score of 192.59. They are beautiful and we love them and are so proud of them. "This was an incredible ice-dance event and to know we gave it our very best means everything," Maia said. Thank you, Maia. Tell Alex we say "hi" and "good job."
Also: did you hear about Freestyle skier Elizabeth Swaney? The internet was talking about her yesterday. If no, please take a moment to familiarize yourself with the 33-year-old American. She — a woman who is not good at skiing but who somehow made it into the Olympics with the sole goal of "making it into the Olympics" — is both an inspiration and also my personal anxiety dream. Thank you.