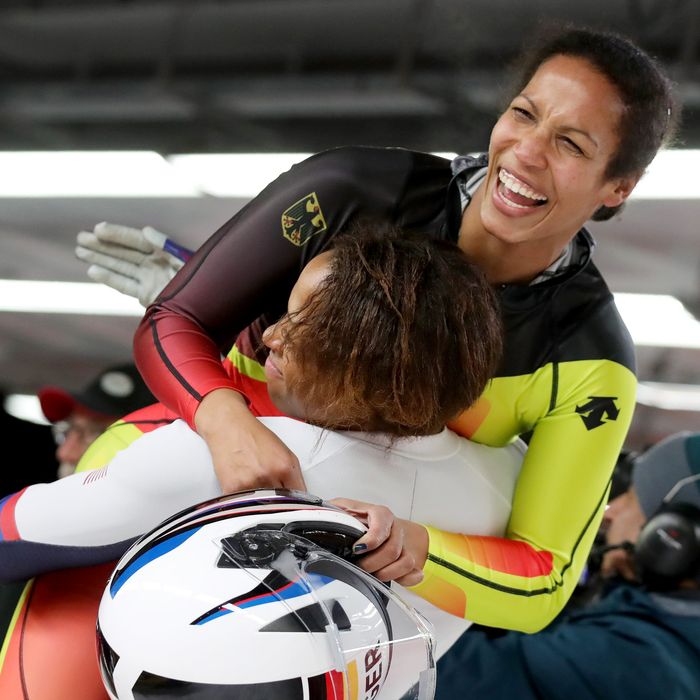 Mariama Jamanka of Germany and Lauren Gibbs of the U.S.
Photo: Alexander Hassenstein/Getty Images
Welcome to Good Sports, a daily bulletin on the Olympics viewing experience by Kelly Conaboy.
I love the women of bobsled. Athletic, diverse, fearless, willing to go as fast as a fast car goes except in a rocket sled down a twisty-turny ice shoot. I wish they could all be gold-medal winners, but they cannot; only one team can. I won't ruin the surprise for you regarding which team that is, in case you are waiting until after the Olympics concludes to read about who took home all of the golds, but I will say it rhymes with shmermany and it is: Germany. Congratulations to Germany.
Driver Mariama Jamanka and her brakewoman Lisa Buckwitz from Germany finished their four runs in three minutes, 22.45 seconds. Elana Meyers Taylor and Lauren Gibbs of the U.S. came in a very close second with 3:22.52 — great job to them, I love you, I'm sorry you almost got gold — and team Canada, Kaillie Humphries and Phylicia George, came in third with 3:22.89.
As I'm sure you know, the Jamaican women's bobsled team got the medal of history for being the first Jamaican women's bobsled team to compete in the Olympics ever. They named their sleigh after Usain Bolt, and he recorded a nice video for them:
They showed it on TV two days ago, but I didn't mention it then. Did you see it then? My apologies if yes, and my redaction if no.
Elsewhere, the woOOOOMMEEEENNNn's HOOOCKKKEEY TEEAAAAAM!!!!!!! defeated the wicked, wicked Canada! EAT SHIT, CANADA! Ha ha, just kidding! It's all in good fun, we're all having fun, except for CANADA who SUCKS! Ha ha, just kidding, they're fine! (They suck!) It was a very dramatic hockey match. I'll tell you what happened. The U.S. got a point. And then then Canada got a point. And then — oh no — Canada got another point. But then, whew, the U.S. got another point. And then overtime was over, and there was a shootout. And then during the shootout — the U.S. won!
If you were unable to watch it I'm glad, at least, that you were able to read my recap. It was exciting, and I'm so glad we defeated the wicked Canada, and it's also always so funny to see someone get a point in hockey because it looks very silly every time. Person in a big goalie suit with a little puck going through their big goalie suit legs.
Cheers to the U.S., of course, from Dunkin' Donuts.