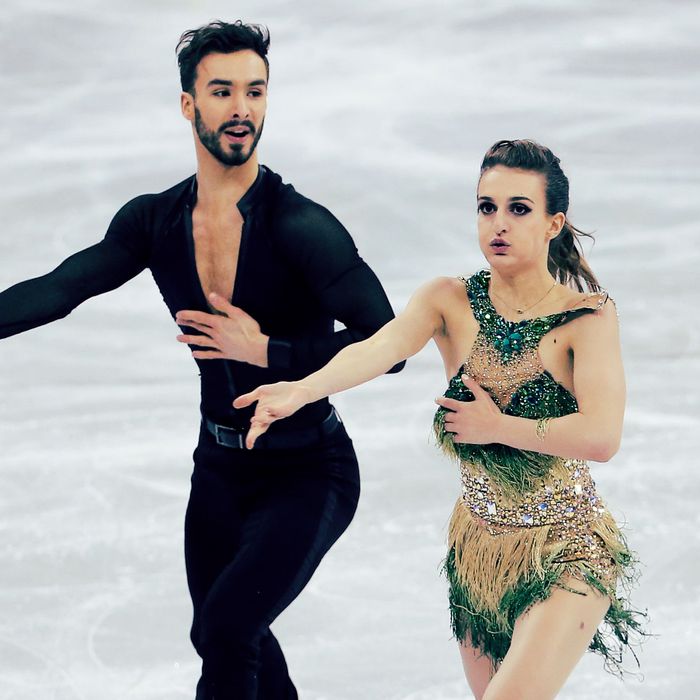 Guillaume Cizeron and Gabriella Papadakis.
Photo: Jean Catuffe / Contributor/2018 Jean Catuffe
Welcome to Good Sports, a daily bulletin on the Olympics viewing experience by Kelly Conaboy.
Oh, no. Here's what I think — if you have a wardrobe malfunction while competing at the Olympics, you get extra points. Particularly if you don't stop in the middle of your routine to fix it. It's only fair. I know what you're thinking and, yes, this would lead to teams purposefully having wardrobe malfunctions for the extra points, so there would have to be a system put in place to determine what was a true wardrobe malfunction and what was a planned wardrobe malfunction, (planned wardrobe malfunctions would be treated like doping), but I believe humans are advanced enough to figure this out. And if not humans, at least some sort of a computer.
Unfortunately for the French ice dancing team Gabriella Papadakis and Guillaume Cizeron, the WM bonus is not yet in place. As Papadakis glided across the ice to the mellifluous sounds of Ed Sheeran, the neck clasp of her ice dancing outfit came undone, forcing her to sort of try to hold onto it to lessen the amount of flashing-the-Olympics-audience happening on the ice.
Ugh. It is hard to be a woman. Even with the malfunction, Papadakis and Cizeron finished in second place — very impressive. Papadakis spoke about the error afterward:
"My costume opened up. It was difficult. It's the first time that something like that happened. I tried to stay focused and finish without anything (else happening)."
Good job, Papadakis.
Now to a shift in tone: I don't mean to alarm you, but there is some doping news. Do you remember when we discussed mixed doubles curling last week? Well. I'm sorry to tell you this, but that half of our new curling friends, Alexander Krushelnitsky of the OAR mixed doubles curling team, has been formally charged with doping after testing positive for meldonium. It was banned in 2016, and you may remember it from when Maria Sharapova tested positive for it at the 2016 Australian Open.
What will happen to him? That is a great question for this Associated Press Q&A about meldonium:
"The Court of Arbitration for Sport has yet to set a date to hear his case. If he is found guilty, he could be banned and forced to return his Olympic bronze medal. The International Olympic Committee could decide against formally reinstating Russia for the Pyeongchang closing ceremony, meaning its athletes would not be allowed to march under the Russian flag."
Fuuuuuuuuuuuuck.