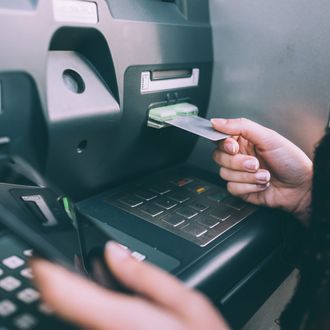 Photo: © Eugenio Marongiu/Getty Images/Cultura RF
When I was in the sixth grade, I acted in a local summer production of Grease, of which I remember very little except for this: the school where we practiced had a faulty vending machine and so every time you dropped in a coin, it would count toward your payment but be returned back to you. I was reminded of the high point of my brief, failed theater career — a bounty of canned Arizona iced tea — when I heard the story of a Kansas woman who allegedly discovered a magical ATM.
The Wichita Eagle reports that Central National Bank is suing Christina Ochoa for continually withdrawing money from an ATM that spit out $100 bills when she asked for $5 bills. They say that she was supposed to receive $1,485 total but in fact walked away with $14,120. Her mother, Christy Ochoa, is also being sued for driving her to the ATM.
"The first time the ATM dispensed more money that what was due Christina, Christina and Christy had a duty to return the surplus funds to the bank," the lawsuit states.
Christy says they were going to the ATM multiple times because they were just getting $5 bills for a crafting project:
Asked why they went to the ATM more than 50 times in five days, Christy Ochoa said her daughter wanted $5 bills to craft a "money cake" as a gift for an acquaintance who'd just had a baby, and the bank wasn't open to give her the exact number of fives she needed.
And to answer your next question:
A "money cake" resembles a birthday cake but is made using rolled and folded paper bills.
Anyway, if you need me, I'm out looking for this ATM.