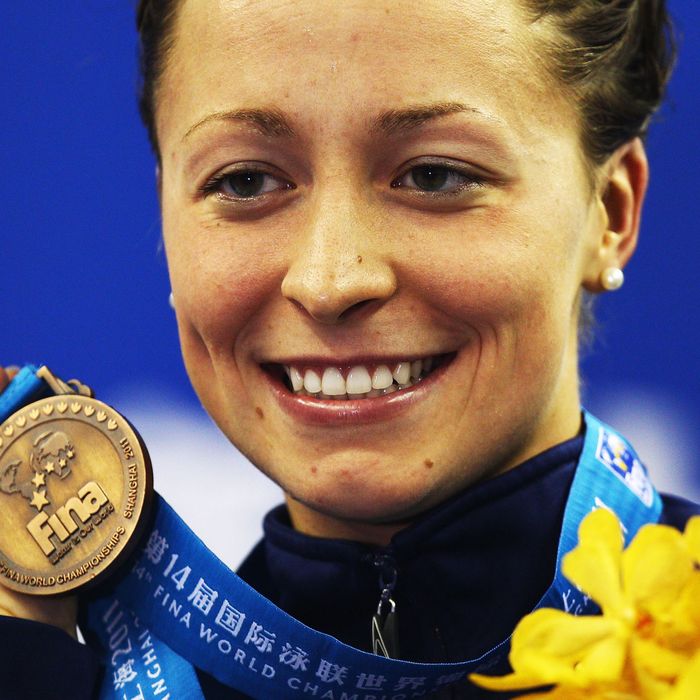 World champion and 2012 Olympian swimmer Ariana Kukors.
Photo: Quinn Rooney/Getty Images
World champion and 2012 Olympian swimmer Ariana Kukors came forward Wednesday night with sexual-assault allegations against USA Swimming national team coach Sean Hutchison, the Orange County Register reports.
Kukors, 28, started training with Hutchison when she was just 13 years old, at which time he allegedly started "grooming" her for a sexual relationship. She said in a press release that Hutchison first sexually assaulted her when she was 16 and continued to have a sexual relationship with her until she was 24. This report comes just one week after disgraced USA Gymnastics doctor Larry Nassar, accused of sexual abuse by more than 250 girls, was sentenced to up to 275 years in prison.
On Tuesday, investigators with a Department of Homeland Security task force searched Hutchison's Seattle apartment. A Homeland Security agent told SeattlePI that they uncovered "hundreds or thousands of sexually explicit photographs of her."
Hutchison, who was once considered a rising star in the Olympic-coaching community, infamously ended his career in 2010 over rumors that he had a romantic relationship with Kukors. Hutchison was later cleared of wrongdoing by USA Swimming.
While Kukors never planned on sharing her story, she decided to go to the police out of concern that her former coach may still be sexually abusing children.
"I never thought I would share my story because, in so many ways, just surviving was enough," Kukors said. "I was able to leave a horrible monster and build a life I could have never imagined for myself. But in time, I've realized that stories like my own are too important to go unwritten."
The current investigation is ongoing, and Hutchison has not yet been criminally charged. Read the full story here.