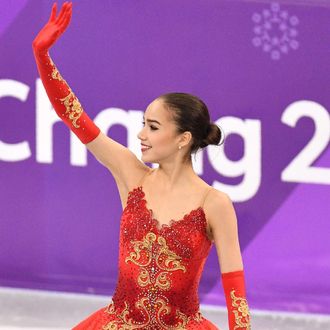 Evgenia Medvedeva (left) and Alina Zagitova on the podium.
Photo: Mladen Antonov/AFP/Getty Images
The 2018 Winter Olympics' most anticipated teen showdown ended even more dramatically than we could have imagined: 15-year-old Alina Zagitova of Russia won gold in women's figure skating on Friday, beating her 18-year-old training partner and rival Evgenia Medvedeva. And many people are not happy about the results.
As you know, we've obsessed over the rivalry between Zagitova and Medvedeva during the entire Winter Games. Though they may look like two tiny, beautiful Russian dolls, the teens are the two best figure skaters in the world and train under the same coach, Eteri Tutberidze, who pits them against each other. (For instance, Tutberidze says things like: "I can sometimes show Zhenya [Evgenia] and say, 'Look, how Alina is working,' and I tell Alina, 'Look, how Zhenya is working.'")
So, the duo were in a neck-in-neck race for the gold in Pyeongchang. Zagitova won the gold with a routine that earned 239.57 points and prompted NBC commentator Terry Gannon to ask, "Has the apprentice become the master?" Medvedeva, who completed a truly stunning routine, only garnered 238.26 points, landing her the silver.
But almost immediately after the results, many people took to social media to claim that Medvedeva was robbed. The elder teen skater's performance was truly beautiful — a moving display of sheer skill and emotional theatrics that seemingly could not be rivaled. Meanwhile, Zagitova's performance was thrilling, but mostly just because it included a bunch of jumps. Here's what the Twitter judges had to say:
Some other Twitter users even compared Medvedeva's loss to when Michelle Kwan shockingly lost the gold to Tara Lipinski in Nagano back in 1998 — one of the biggest figure-skating upsets in recent history (until now, we guess).
Regardless of the results, we can't believe that we have to wait four more years for more Olympic figure-skating drama!!!