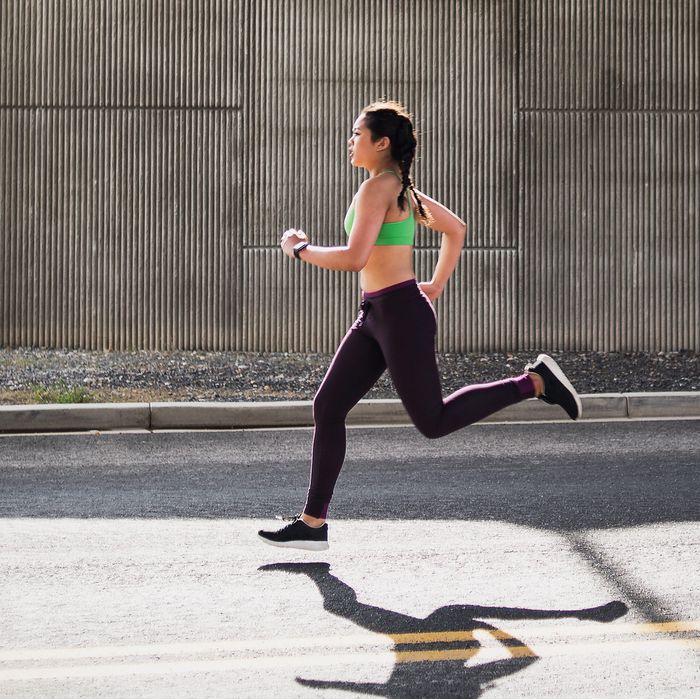 Photo: Tony Anderson/Getty Images
When I made a resolution to stay fit this year, I went on a mission to find a pair of leggings that wouldn't slip down no matter the workout. I scoured the internet for the best high-waisted pairs from every athletic brand, then tested them for three months. I paid special attention to the quality of the material, the comfort level, and how they fit at the waist. (After all, if you've got more of a booty, you know how annoying it is when pants slip down.) At this point, I've worked out in dozens of pairs at all price points, from Lululemon to Old Navy. Here are my favorites.
I'm sorry to say that really great leggings don't come cheap. But if you do want a pair for under $30, consider these from Old Navy. While they don't stack up to the more expensive pairs in terms of quality or compression at the waist, they do come in a variety of heights, so you can find your fit whether you're petite or over six feet.
I didn't expect to love these as much as I did, but whether I was going to a Bari class or cycling at my gym, I found myself reaching for them again and again. The waist is super high and refused to budge no matter what yoga poses I pretzeled myself into. The material has a cool-looking sheen, with a weighty texture that didn't feel too constrictive — which may be why I kept wearing them to run errands, too.
If You Love Lifting Weights
Pockets: you never know how important they are until you've started a weight lifting regimen. The pockets on these Lululemon leggings come in handy when you're going from machine to machine and want to tuck your phone or keys away somewhere on your person. The pants feel good, too — almost weightless, making them equally ideal for running or long bouts of cardio.
The Best Pairs for Your Butt (It's a Tie)
Photo: Brown, Indya
Part of the allure of working out is the promise of a sculpted and toned body, but you still want to look good while you're getting there. I never knew Spanx made athletic leggings until two of my colleagues swore they never work out without them. Personally, I found the intense compression to be less than comfortable in more intense workouts where flexibility was key. But they were certainly flattering. And of all the leggings on this list, they come the widest range of sizes, from XS to 3X.
The name of Sweaty Betty's "Zero Gravity" leggings is accurate: these will make your lower half look downright buoyant. I loved that the material is UV 50+ protective, and after a session of HIIT on the treadmill, my butt never looked better.
The Best for Yoga (Also a Tie)
Photo: Brown, Indya
Yoga is the ultimate test of a good legging, not just because it requires contortionist skills but also because you're going to sweat. So it was no surprise the two yoga brands I tested — Manduka (they also make my favorite sexy sports bra) and Gaiam — proved to have some of the best leggings on this list. Instead of super-slick spandex or lycra, yoga pants tend to be made with softer fabrics like cotton and polyester, providing more breathability. The Manduka pants in particular are supremely soft.
Photo: Brown, Indya
These aren't quite as soft as the Manduka pair, but they're also $13 less. Really, you can't go wrong with either, and they're just as good for a jog or weight-lifting as they are for downward dog,
Nowadays every brand is getting into performance gear, but it's a tough market considering there are so many worthy competitors already. Lou & Grey's FORM line surprised me because their leggings performed most similarly to the Lululemon pair. Although the compression isn't as good, you'll love these because of the cheaper price tag and light-weight feeling.
The Best Colors and Prints
Athleta's website has a huge selection of leggings. These weren't as lightweight as the Lululemon pants, but they were better at sculpting and hiding the areas I wanted to hide. And I appreciated all the little details like the adjustable waistband, mesh paneling, and lots of pockets. Most of all, Athleta has the most interesting colorways and prints of any other brand in the mix.
The Best for Instagram Flexing
Photo: 18-02-14 zainagohou PM2 B4 alizabaran W
Heroine Sport is still under-the-radar, and I'm so glad I found it. These leggings became my go-to on the days when I wanted to feel cuter. My only complaint was the lack of an adjustable waistband to tighten the fit, but despite that they still managed to hang tight during weighted sumo squats. If you plan on taking selfies at the gym, buy the matching sports bra and you'll look like an Instagram fitness guru.
If you buy something through our links, New York may earn an affiliate commission.