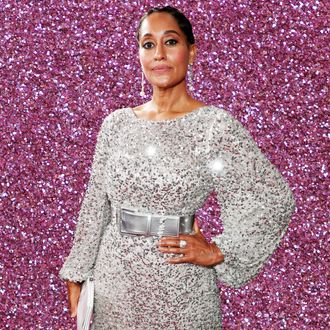 Tracee Ellis Ross.
Photo: Rich Polk/Getty Images/MichellePatrickPhotographyLLC/Getty Images/EyeEm
Tracee Ellis Ross is many things: a Golden Globe–winning actress, a feminist, an activist, a designer, a speaker of profound truths, and a woman with an unabashed love for sequins. She will proudly wrap herself in sheets and sheets of these shiny, shimmery beads, in colors that span the rainbow. She even designed (and wore) a hot-pink sequined midi dress for her collection with J.C. Penney. Ross's intricately beaded gowns and jumpsuits are reminiscent of her Supreme mother Diana's best show looks from the 1970s.
While she is clearly skilled and talented in multiple realms, nobody (other than, say, RuPaul) comes close to working a mega-sparkly, sequin-covered jumpsuit or gown (with some extra-fancy plumage attached) on the red carpet with such flair and style than Ms. Ross. In head-to-toe sequins, she looks like a svelte, beaming human disco ball — ready to bring the fun, energy, and dance moves to any post awards-show party.
Considering that Tracee Ellis Ross's entire being emanates a sparkly sheen whenever she wears these holographic mini discs, it makes one wonder: Does she bathe in sequins? Does she always have little piles of them at hand that she can toss around like glitter when she needs to make an extra fabulous exit? Are they the secret to her abundant zest for life? Quite possibly the answer will be yes to all of the above. We need her secret.
But here's what we know is true: She glitters. She sparkles. She's Tracee Ellis Ross. And if you want to be anything like her, dig deep and strive to find the beaming little sequin from within your soul.