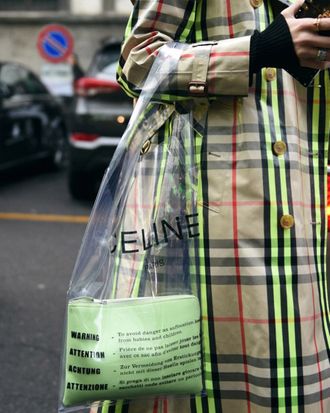 Once in a while, a trend appears on the runway, trickles down to your local mall, and then lodges itself firmly inside your brain. Now Trending is our weekly roundup of where to buy that look that's been haunting you.
When I saw everyone carrying clear plastic bags and wearing clear plastic shoes at fashion month, I swear I thought it was a hoax. Why would you pay money for see-through accessories?
If PVC is a hoax, though, it's one being perpetrated by trickster Karl Lagerfeld, who created clear bags, boots, and rain hats for Chanel's 2018 spring collection. And the more I looked at them, the more I started to get it: transparency is fun.
Sure, it's not necessarily practical to show the world the contents of your purse, but fashion doesn't have to be practical. Carrying a clear bag or wearing clear shoes makes you feel like a little kid. It also encourages you to get creative with styling, whether you're picking out brightly colored pouches to organize your plastic purse or finding a muted color palette that goes with your PVC shoes. If you like putting a look together, you can really go to town.
Below, I've rounded up some of my favorite transparent accessories for playing with the trend.
Plastic fanny packs let you wear two trends at once. This one's too tiny to fit much, but at $20, it's a good way to start experimenting with transparency.
The brown color and big front pocket will obscure at least some of your stuff.
The wide shape of this one allows you to carry around a laptop along with your other essentials.
The boxy shape is chic, and the gold handle adds a nice modern touch.
A simple tote like this one would look great with a miniature red tote inside.
If you're scared to jump into clear bags, try shoes with see-through straps. It's just enough plastic without being overbearing.
Kim Kardashian has been wearing boots like these barefoot, but we recommend wearing them with socks. It's never a good look when your foot sweat fogs up your shoes.
This fanny pack is meant to be worn as a belt. Try it with trousers and a pink shirt, as seen here.
A more conservative take on the trend.
These arty earrings go with literally everything.
Wear these with bright-colored dresses and skirts.
A white T-shirt and white jeans would look insanely crisp under this.
On the runway, models wore these with suits. Depending on your job, you could do the same.
These are expensive, but they're also really well-designed. The thin tubular handles make them easy to carry, the size is perfect (not too big and not too small), and you can use the subtle colors to zhuzh up your outfit.
If you buy something through our links, New York may earn an affiliate commission.