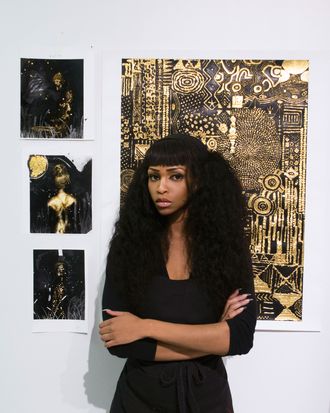 Lina Iris Viktor in her studio.
Photo: Courtesy Mariane Ibrahim Gallery
Art was always in the picture for Lina Iris Viktor. Growing up, the British-Liberian artist wanted to perform; in college, she studied film. But in 2013, Viktor produced her first painting using an unusual medium: 24-karat gold leaf on black acrylic. Since then, gold has become central to her practice, which earned her a spot in the permanent collection at the Smithsonian Museum's National Museum of African Art in 2017. This week, you can see Viktor's work in all its golden glory at the Armory show.
Viktor's booth, at the heart of the venue, has been transformed into an intimate room, or a "sacred space," where five of her newest pieces are enclosed on one side by latticework walls carved from wood, and on the other by solid panels. Three of the works hang against black walls, and one is set against a panel gilded with gold leaf. At the center, a fabric-on-wood canvas is suspended, giving visitors a 360 perspective of her golden masterpieces.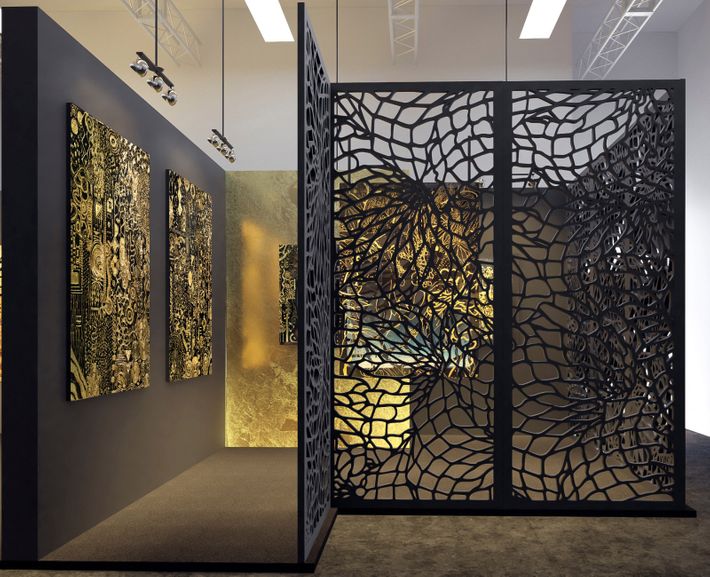 Three of the never-before-seen pieces are the latest additions to her Constellations series, a collection of large-scale gilded paintings with intricately designed patterns inspired by mid-20th century African architecture and African textiles. The first three works in the series came into the spotlight after Kendrick Lamar and SZA allegedly reproduced "copyrightable elements" of the images in the music video for "All the Stars," from the Black Panther soundtrack.
In her work, Viktor looks beyond the monetary value of gold and its reputation as a luxury material, instead exploring its historical significance, from the excursions led by colonial powers in African countries, to the more spiritual element of gold across cultures and in decades past when gold was buried with the deceased and never intended to be retrieved.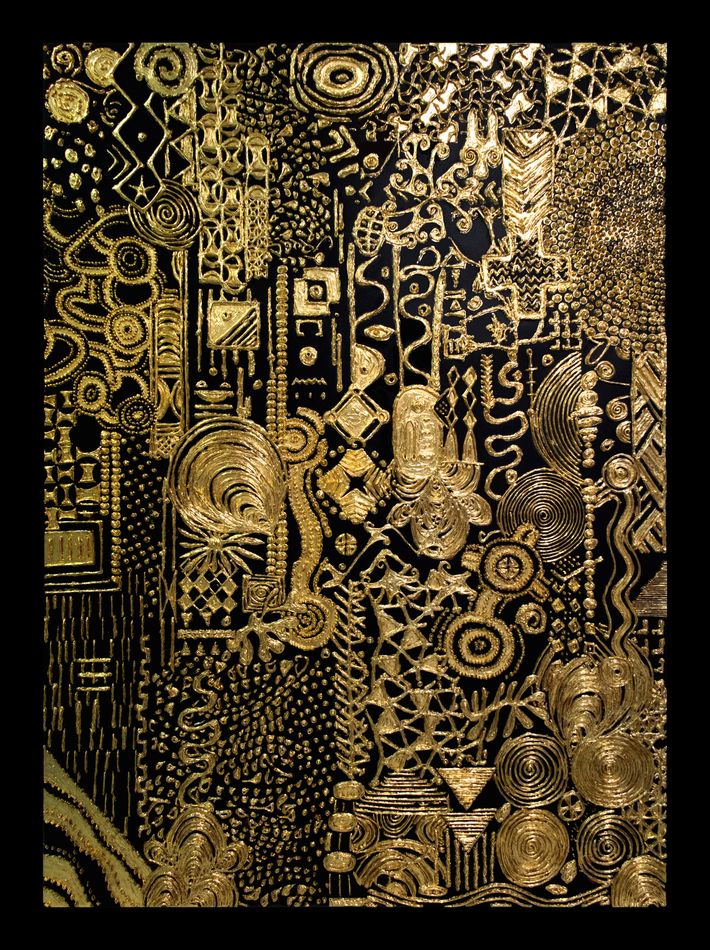 At the same time, she explores the meaning of blackness, both literally and figuratively. "[The word black] has a lot of negative associations and synonyms attached to it," she says. "along with the fact that it is a word used to describe … the black race. So, think about the psychological connotations of that." So in her paintings, Viktor challenges this conventional understanding of blackness, and the idea that "void is black to the human eye." "You look at the night sky, and it looks black, like a void, but is actually full," she says. Her work tells the story of blackness as "the saturation, the full, of the entire color spectrum."
Lina Iris Viktor's work will be presented by the Mariane Ibrahim Gallery in booth #823 at the Armory Show. It will remain on view from March 8 to March 11.