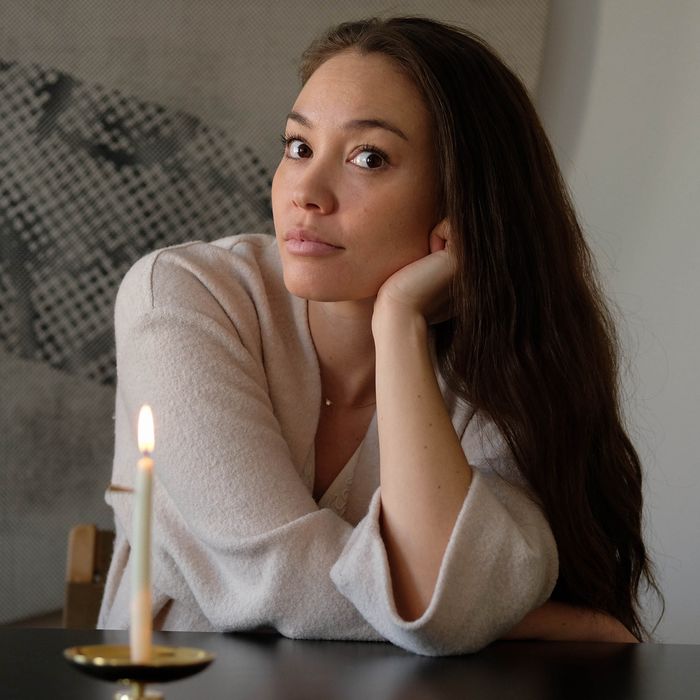 New York City–based wellness entrepreneur Jenn Tardif is offering a new take on mindfulness with 3rd Ritual, a collection of experiential workshops and products designed to enhance one's sense of balance. Tardif, who grew up in Toronto, moved to New York seven years ago and worked for a tech start-up that sold to Adobe. But while working her proverbial 9 to 5, she was living a holistic double life.
"I was teaching yoga, a lot of times I'd have a class in the morning, and then I'd run to work, and then I would do some sort of mindful event at night; whether it would be leading meditation or lectures on philosophy, ritual, and aromatherapy," Tardif says. But she soon found herself burning the candle at both ends. "I really wasn't practicing what I was preaching," she recalls. So she decided to leave Adobe and create a new niche for herself. Thus, 3rd Ritual — a marriage of Taoist, yogic, and design philosophies — was born.
Tardif now devotes herself to leading ritual-based workshops, on everything from wreath-making to pattern dyeing to aromatherapy, with an emphasis on mindfulness (she also teaches at Sky Ting Yoga). Last month, she launched 3rd Ritual's first product: a "device" fashioned with candles and brass pins that marks the passage of time.
"The wax melts, and eventually a pin falls and it releases this soft sound that was really inspired by a Tibetan singing wall," Tardif says. Future products will include an apothecary line, and a personal aromatherapy inhaler designed to look like a piece of jewelry. (As opposed to the one she used in aromatherapy school, which she recalls "looked like a tampon.")
Below, the wellness entrepreneur spoke to the Cut about her love of loungewear, the best paleo chocolate, and the TV show that she considers "a scoop of ice cream for the brain." Read on for the full Q&A.
How do you thank people for a gift?
I love a handwritten note. I recently elevated this ritual with custom stationery. We have this cotton stationery in the branded 3rd Ritual wax seal. It's a very layered process now for me where I write the note, and I seal it up, and I always send it by mail. There's something timeless about that.
Color or no color on your nails?
Never on my hands because I use them too much, but always on my toes because I'm always barefoot either teaching yoga or wandering around our studio. I change the color with the season. I have not grown out of blues and pinks, and I'll do classic reds. It's like all fair game. I really love the Chanel nail polish — it just lasts longer.
Mood lighting or natural light?
Natural, always.
What are five coffee table books you'd be proud to display?
Be Here Now, that's by Ram Dass. The Red Book by Carl Jung, that one we really do always have out. Sumo, by Helmut Newton. Living With Light, Axel Vervoordt, and Andy Goldsworthy, Ephemeral Works: 2004–2014.
Heels or flats?
Almost always flats. I really love minimal shoes. My favorite brand right now for shoes is Feit. They're so good. They're handmade, all-natural materials, and then they're designed to last over time. They actually take the shape of your foot, which I think is so luxurious. It's expensive, but then you have them forever and they resole them for you.
What's a trend that you like right now?
I hope it's more than a trend, but I do love how mainstream meditation and mindfulness have become. I feel like I've just witnessed time and time again how profound the effect of those practices can be. I think that my beef with it, as a "trend," is that living mindfully has become a bit of a buzzword. It still requires a lot of dedication and perseverance to really achieve it. But I'm so happy that it's something my dad has heard of. I never thought I'd see the day.
What's your favorite song on your playlist right now?
I make a lot of yoga playlists, so I think I'd go with "Dumb Love" by Neil Frances because it's been making its way into almost every yoga class I teach.
If you were a car, what kind of car would you be?
I want to say something exotic, like a Ferrari, but in reality, I think I would be a Volvo.
No makeup makeup, or actually no makeup?
During the day, I just wear sunscreen. I have this really great natural SPF 30 by Pratima. She's an Ayurvedic doctor in New York. She's amazing. I wear Boy Brow by Glossier, it really helps undo the damage from my teen plucking years. At night, I like to wear a little bit more.
I try to spruce it up by balancing my skin with that Giorgio Armani Maestro [foundation], and then I do like a classic red lip. I really like Chanel and NARS for lipstick.
What's one way your taste has changed since your teen years and one way that it's stayed the same?
Luckily, it's changed in a lot of ways. Like I was just mentioning my eyebrows. I saw a picture recently and I was like, "You poor child." I think the most notable difference is probably the amount or the lessened importance that I place on external measures of success; like the approval of others. Now, it's much more I place a lot more weight on my own internal compass. I've always been into yoga. It's the longest relationship I've ever had so that is easily the thing that's remained a constant, but it's really changed over time. I've been very humbled by the ways that [yoga] as practice continues to reveal itself.
What's your guilty pleasure?
Cheesy TV. I can't handle anything too violent or scary. Sometimes I just need to wash away the stress of the day with an episode of Jane the Virgin. I always say it's like a scoop of ice cream for the brain.
What's the last show that you binge-watched?
The Good Wife with Julianna Margulies. I'm a sucker for a strong female lead. Netflix knows me well.
What's your favorite …
Pair of jeans?
I'm actually five months pregnant right now. As a result, jeans don't really make it in the rotation. When I can fit in them, I usually go vintage. I love classics like Levi's 511s.
T-shirt?
My friend Sasha Kelly, who's a stylist, actually made T-shirts for a presentation by the fashion designer Matthew Adams Dolan. It has that preworn softness that you can only get after a few years of wear and it is my favorite -shirt. I will pull it out of the hamper.
Pajamas?
I love the classic J. Crew pajama sets. This is embarrassing because it's 11, but I'm wearing one right now. My husband calls them my night clothes. He's like, "Oh, you're putting on your night clothes. It's 8 p.m."
Flower?
I'm such a flower and plant person. If I'm buying a single stem, I go for something green. I love those huge Monstera or the fan palm leaves. Those make great gifts. Flowers, I love anthuriums or ranunculus, but then I'm also a sucker for peonies.
Chocolate?
Hu Kitchen. It's so good. I love their dark chocolate bars with sea salt. Those are paleo and vegan, but I'm not either of those things.
Fragrance?
Lately, I've been wearing more oil blends than perfume. I like that it doesn't last all day. It's sort of more personal. Right now, because it's still wintery, I've been wearing more jasmine and neroli oil.
When it gets warmer, I go for heavier oil, so I love oud and vetiver.
Is there a specific brand that you recommend?
No, as long as it's organic and it's 100 percent pure. Anyone can get those.
Sheets?
We have Frette sheets. I used to feel silly spending money on sheets until my aunt pointed out that we spend more time in bed than we ever could in a given outfit. That's what helped me make the jump.
She gifted us nice sheets for our wedding and then it's like there's no going back.
Lip balm?
I'm old school. I'm a Vaseline girl. I transfer it into this tiny, vintage glass jar so it's a little nicer when I whip it out of my handbag, but just straight up Vaseline always and forever.
If you buy something through our links, New York may earn an affiliate commission.