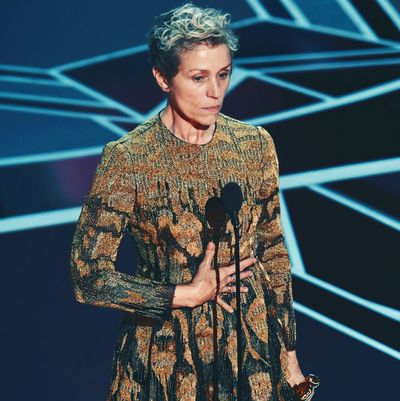 Frances McDormand.
Photo: Kevin Winter/Getty Images
Last night, Frances McDormand set off a frenzy of googling when she touted "inclusion riders" in her Oscar acceptance speech. As most of us learned this morning, inclusion riders are provisions that actors can negotiate to have added into their contracts, which would mandate that crew members and minor cast members meet certain diversity benchmarks — for example, requiring that 50 percent of a film's cast be female. As Dr. Stacy Smith, director of the Annenberg Inclusion Initiative at U.S.C., told The New York Times: "We could see the numbers onscreen and behind the camera jump if [inclusion riders were] adopted by some of the most powerful people in Hollywood."
We called up Melissa Silverstein, the founder and publisher of Women and Hollywood — which has been advocating for gender equality for over a decade — to ask about some other practical ways people are trying to effect change in the industry. While Silverstein says there are many initiatives to combat discrimination in Hollywood, she acknowledges that it been an uphill battle. "The telling thing is the lack of cohesion in the industry," she tells me, adding that the MPAA, the lobbying arm of the studios, has been largely silent on Hollywood's equality push. "Where is the leadership pushing for change? It really has come from the women," she adds. Here are some ways that people are fighting for tangible change:
Increased Access to Funding:
As Silverstein explains, one of the issues that female filmmakers have long struggled with is access to funding. To that end, there have been several programs and funds launched recently to help women and minorities secure financing for their projects. One example: the Evolve Entertainment Fund, a joint effort from Ava DuVernay, Los Angeles Mayor Eric Garcetti, and The Lego Movie producer Dan Lin, which helps secure 150 paid summer internships in film for young women and people of color hoping to break into the industry.
Government-Backed Programs:
While this hasn't happened in the States, countries like Canada and Australia that use government funding for filmmaking have been able to make a top-down push for diversity. In Australia, a program called Gender Matters is offering funding to films which meet three of the following "three-tick" criteria: female director, female writer, female protagonist, and/or female producer. Britain's Film Institute recently introduced a similar program. Meanwhile, Canada's National Film Board has pledged to devote 50 percent of its budget to women, and Telefilm Canada has released a five-pronged action plan designed to reach a goal of gender parity for directors, writers, and producers by 2020.
Hiring More Women Behind-the-Scenes:
We know that having more women behind-the-scenes leads to more women on camera, yet changing hiring practices in Hollywood is easier said than done. Individual powerhouse creators, like Ava Duvernay, Shonda Rhimes, and Jill Soloway have tried to lead by example; meanwhile, one of the Times Up's activist initiatives, 5050by2020, is working to change the Hollywood gender landscape by promoting a goal 50/50 gender parity across the industry by 2020. Talent agency ICM has pledged to make sure half its partners, department heads and board members are female by 2020, and CAA has made a similar pledge when it comes to its management and board of directors. (However, as Silverstein notes, there's reason for skepticism; up until recently, CAA was a major enabler of Harvey Weinstein.) Other major organizations, like Vice — which has had its own issues with workplace inequality and harassment — have made similar equality pledges, as have 300 prominent artists within the French film industry.
Simply talking more openly about salaries can go a long way toward increasing parity in the industry, something that Time's Up has been vocal in advocating for. In the past, when talking about money was more taboo, women often didn't realize they could be negotiating for more because they didn't know how much their male co-stars were getting — as we saw with the recent Michelle Williams–Mark Wahlberg debacle. In addition to grassroots actions like the creation of salary-transparency databases, men can help lead the way here. Bradley Cooper, for example, has announced plans to collaborate with female co-stars in future salary negotiations so as to avoid disparities like the one that took place on the American Hustle set.