Mina Alyeshmerni wasn't going to cancel her dinner plans just because of an inconvenient blizzard. Especially since this was no ordinary dinner — it was Nowruz, or Persian New Year, a dinner party her ancestors have hosted for over 3,000 years.
While Nowruz has roots in Zoroastrianism, it's inclusive of everyone. Held at the turn of the vernal equinox, the holiday is observed not just at the tables of Iranians but Indians, Turks, and Afghans. Alyeshmerni has a tendency to collect culturally hungry artistic types, whether in her own home or as part of her store, Maimoun, so it's no surprise that she gathered a group of like-minded women in her home for a Nowruz party on Tuesday night.
The custom of setting the table for Nowruz is known as a haft-seen. In Alyeshmerni's Williamsburg apartment, there was first a khooneh takouni (a "shaking of the house," the Persian version of spring cleaning). Then family heirlooms were brought out on the mantle.
Mina dressed an end table with satin, placing on top a mirror, garlic, lentil sprouts, apples, dishes of vinegar and sumac, and a plate of sweet paste called samanu. She told me the items displayed all start with the letter s in the Persian alphabet. Added to the chef d'oeuvre were eggs, coins, hyacinth, a bowl of fish, and an Iranian poetry book.
"My family loves hosting poetry nights," she explained, lighting candles.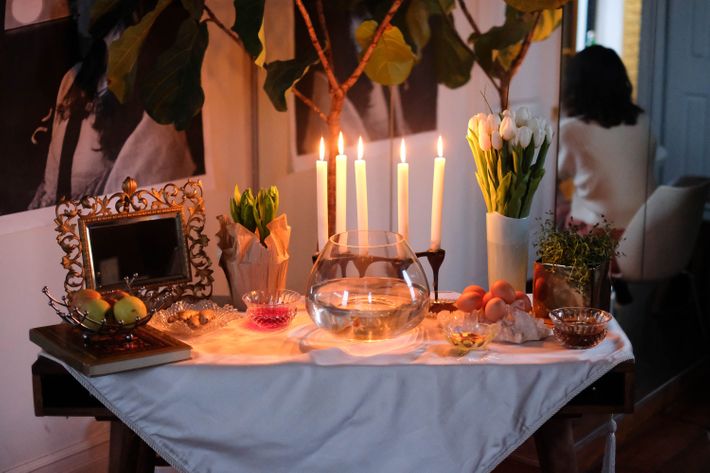 Mina's finishing touch was her guest list of fashionable Iranian women, who, like her, work for themselves: Clémence Polès from Passerbuys, Nicole Najafi who runs Tio y Tia and Industry Standards — and an eccentric blogger named Pari Ehsan, who was wearing Lou Dallas and had just gotten back from sneaking into David Zwirner for a photo shoot. Also at the table was writer Fariha Róisín.
Gita served us traditional stews called khoresht karafs and gheimeh, kebabs, lemon chicken, and green Persian rice with tahdig. During dinner, she talked about her life in Iran before the revolution, and asked the table if anyone had gone back yet. Pari said it had been difficult because she hadn't obtained her birth certificate. "It's easier to go to Iran if you're a foreigner than when you're an actual citizen," she professed. We grabbed seconds over discussions of systemic racism and the fundamental hurdles of being Muslim.
Under the dim lights, Nicole recalled memories of growing up around parties full of belly dancing and songs until dawn. Gita described older customs of Nowruz — jumping over rows of fires, hitting each other with scallions. Bastani, a pistachio ice cream doused in rosewater and saffron, was brought out for dessert. The flavor of the rosewater paired with orange wine made everyone's breath smell like jasmine.
We moved from table to couch, continuing to weave stories of the past with hopeful anecdotes for the future. The evening's intimacy made it easy to forget about the arctic landscape outside, and everyone agreed that welcoming the new year on the first day of spring is logical nonetheless. After all, it's a celebration of adaptation. "Be salamati! Eide Mobarak!" we toasted by the end of the night. "To life! Happy new year!"