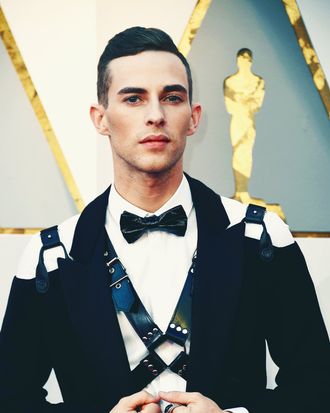 Adam Rippon.
Photo: Frazer Harrison/Getty Images
At the Oscars on Sunday, Adam Rippon, Olympic figure skater with ten-out-of-ten perfect eyebrows, proved that his red-carpet style is aces, too.
The 28-year-old bronze medalist attended the 90th Academy Awards wearing a cropped black Moschino suit, which featured not only a chest harness, but also what the brand describes in a press release as a "cold shoulder detail." Rippon paired the look with a black cummerbund and patent-leather bow tie. Yes, that's right: a patent-leather bow tie. If this isn't a first on the red carpet, it will certainly go down as one of the most memorable.
By Rippon's side was his Olympic teammate Mirai Nagasu, who wore a blue Tadashi Shoji gown that wasn't far off from a skating leotard.
"We have a dream and nightmare kind of look going on right now," Rippon told People of he and Nagasu's looks. We're assuming Rippon thinks he's the "nightmare" in this scenario, but we strongly disagree. More leather daddy looks on the red carpet, please.
Per Rippon's Instagram, he had a special fitting with designer Jeremy Scott before the big day. "Dressed to impress," he wrote in his caption, which now seems like an understatement. In his story, he was a bit more jokey, saying, "Just something casual," about his very not-casual look.
Even though the Olympics are over, Rippon still has legions of fans, all of whom praised his outfit on Twitter. Read some of the best, most enthusiastic responses, below.