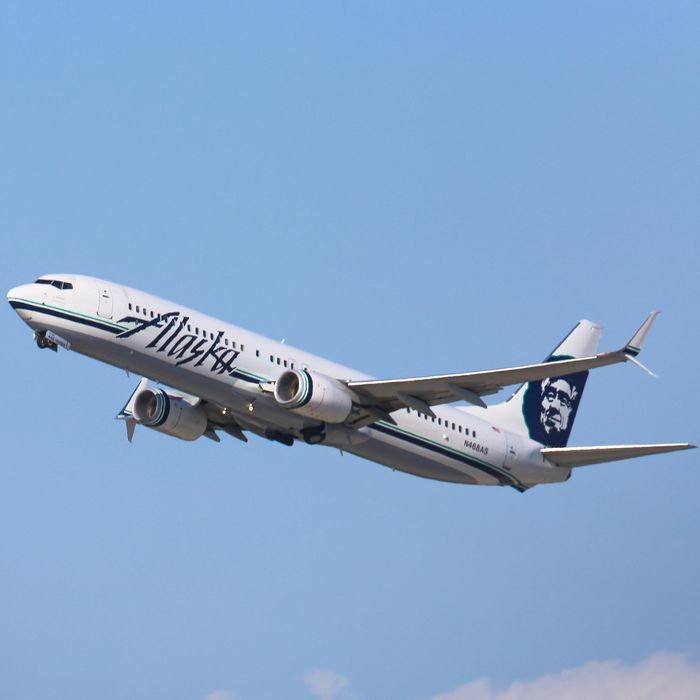 Alaska Airlines.
Photo: PG/Bauer-Griffin/GC Images
In a new lawsuit, Alaska Airlines first officer and co-pilot Betty Pina alleges she was drugged and raped by her captain in between flights in June. The assault allegedly occurred during a brief overnight stay in Minneapolis after the pair got drinks at a hotel bar.
The Daily Beast reports Pina, 39, woke up in a hotel room to the smell of vomit in June. She was naked from the waist down and had apparently thrown up on the walls and bed of the room. Her boss and captain (whom the Cut is not identifying at this time, as he is a private citizen and has not been charged with a crime) was allegedly in bed next to her, according to a lawsuit filed Wednesday in Washington court.
Pina — an Army chopper veteran based in Seattle — alleges in the complaint that she and the captain, who she hadn't met before that flight assignment, got drinks at the hotel that night. She drank he first glass of wine "without any problem," but after the captain brought her the second glass, she "was having a hard time keeping her head up and things appeared to be closing in."
The complaint continues, "[The captain] took her glass to refill it. The next thing she remembers is waking up and being pulled on her right ankle. Pina thinks she said 'No,' and rolled on her side."
But when Pina woke up in the morning, her pants and underwear were off and she slid off the bed. "This didn't feel like a hangover," the complaint reads. "Pina's muscles hurt, her head hurt, she was foggy, and her stomach hurt the worst."
The captain allegedly denied having any sexual contact with her that morning. Pina reported the rape and an investigation was launched. She was then taken off active flight crew "for an extended period" and only recently returned to full duty. The lawsuit states, "[The captain] is still employed by Alaska Airlines, and remains a threat to other employees." Pina claims the airline is liable for his actions.