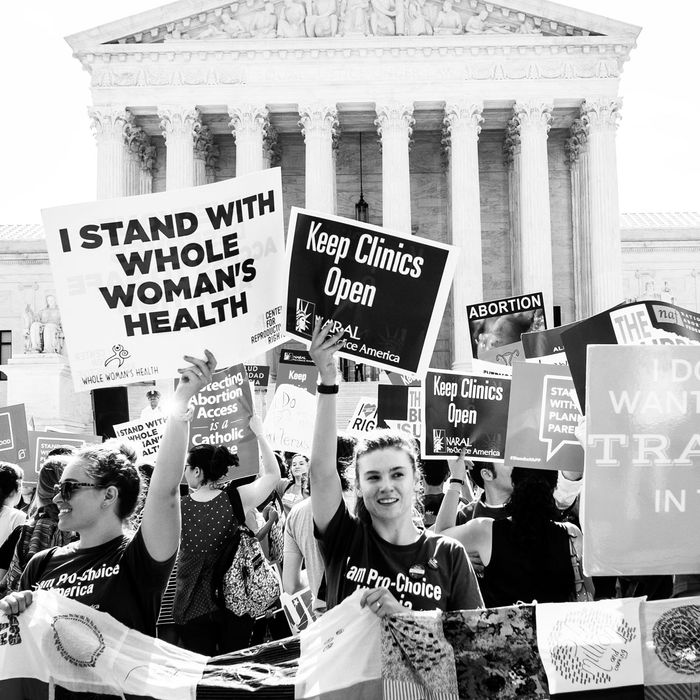 Photo: Pete Marovich/Getty Images
The Supreme Court has just started to hear a case that could have major implications for the future of abortion rights. National Institute of Family and Life Advocates v. Becerra, better known as NIFLA v. Becerra, concerns the legality of a California law that requires faith-based, anti-abortion crisis pregnancy centers inform clients about abortion services.
Almost immediately after California passed the Reproductive Fact Act in October 2015, multiple anti-abortion centers and organizations sued the state, claiming the law violates their their First Amendment rights to free speech and free exercise of religion. In November 2017, the Supreme Court agreed to hear one of the cases, and on March 20, oral arguments commence.
Below, here's what to know about the upcoming case.
Very quickly: What are crisis pregnancy centers?
In short, they're faith-based centers that pose as abortion-providing health-care clinics. In 2013, it was estimated that about 2,500 centers exist around the country.
How exactly do they threaten abortion clinics?
Those behind CPCs tend to deliberately open centers close to abortion-providing clinics and market themselves as women's health centers to confuse patients. Outside the clinics themselves, CPC employees — many of whom don't have medical experience — will attempt to lure women seeking an abortion into their center instead. An example: In Jackson, Mississippi, Center for Pregnancy Choices, a CPC, opened just 100 yards from Jackson Women's Health Organization — the state's only abortion clinic.
So what is California's law regarding them?
In October 2015, California — which has more than 300 CPCs — passed the Reproductive Fact Act, which requires CPCs to provide comprehensive information on reproductive choices, including abortion. Just days after the law passed, multiple clinics began to sue then-California Attorney General Kamala Harris, claiming that the law violated their First Amendment rights.
And who exactly are Becerra and NIFLA?
Xavier Becerra is the current California attorney general who is defending the law. NIFLA, which filed its first legal challenge in 2016, is a public interest law firm that counsels CPCs around the country.
What could this case mean for the future of abortion rights?
Courts have invalidated similar laws in Texas, Maryland, and New York, and if NIFLA wins the case, California will no longer be able to enforce the law. However, if NIFLA loses, other states could pass similar laws in the future. There could be an upside to a NIFLA win, though. If the court rules that the government cannot dictate what health centers are required to tell patients, some pro-choice advocates wonder if they could use such a ruling to challenge the numerous state laws that require abortion providers to deliver unscientific messages about alleged abortion risks and complications.
So when is ruling expected?
No later than this summer.