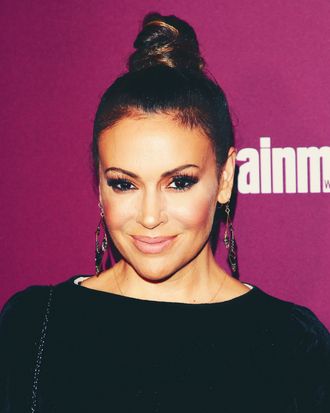 Alyssa Milano.
Photo: JB Lacroix/WireImage
Actress Alyssa Milano highlighted female farmworkers' protest against Wendy's while slamming the company for their response in a Facebook post on Wednesday.
Milano first called attention to the women who fasted for five days to demand that Wendy's join the Coalition of Immokalee Workers' Fair Food Program, which according to the program's site, "is a unique partnership among farmers, farmworkers, and retail food companies that ensures humane wages and working conditions for the workers who pick fruits and vegetables on participating farms." In particular, according to a HuffPost article on the matter, Wendy's has been buying tomatoes from Mexican growers in the winter — where rampant sexual abuse and forced labor have been recorded.
In the article, Wendy's spokesperson Heidi Schauer is quoted as saying, "There's no new news here, aside from the CIW trying to exploit the positive momentum that has been generated by and for women in the #MeToo and Time's Up movement to advance their interests."
"Wendy's, this is very simple: These women are the #MeToo movement, which is a grassroots movement of women from all corners of society exposing the painfully common experience of sexual harassment, misconduct and assault," Milano wrote in response. "To suggest that farmworker women..are somehow unwelcome intruders in the fight for dignity and safety for women is downright absurd and unbelievably offensive."
Read her full post, below: