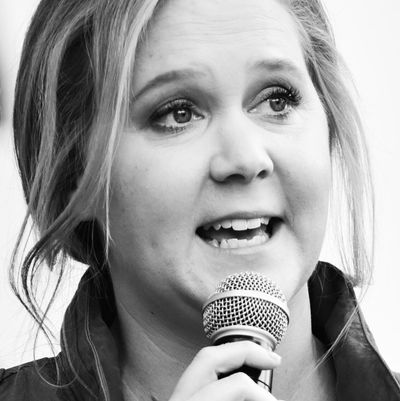 Amy Schumer at the March for Our Lives in Los Angeles.
Photo: Rodin Eckenroth/Getty Images
On Saturday, Amy Schumer pleaded for lawmakers to protect children from gun violence in an emotional speech at the March for Our Lives rally in Los Angeles.
The comedian has been an outspoken gun-control advocate since a July 2015 shooting at a Louisiana screening of her film Trainwreck, during which two women – Mayci Breaux, 21, and Jillian Johnson, 33 – were killed. After the shooting, Schumer teamed up with her cousin, Senator Chuck Schumer of New York, to encourage politicians to get interested in fighting gun violence.
Speaking on Saturday, Schumer thanked the student organizers and everyone else in attendance at the march for "standing up and saying, 'No more.' " She continued, "Because we know it's hard and we know they will twist our words and laugh at us and lie and lie and lie and lie and lie. How do they sleep at night?"
"You are kiling children," Schumer said. "And they call people like me 'Hollywood liberals' like there's something in it for us. Well, what's in it for us is knowing we're doing our part to keep our children alive." She explained that speaking out about gun-control "puts literal targets on our backs" and narrows the audience for her work. She also said that it leads to entertainers like her selling half as many tickets.
"You see that politicians? You can make a little less money and be able to look at yourself in the mirror with no blood on your hands," Schumer added.
The actress went on to tell politicians who aren't standing up for gun-control that they are "digging the graves" of the people they've sworn to protect. Watch her speech below.