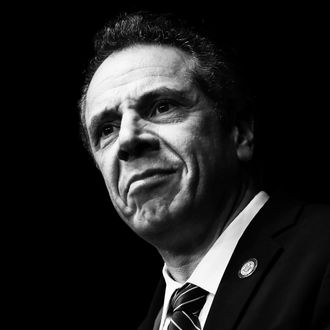 Governor Andrew Cuomo.
Photo: Drew Angerer/Getty Images
Every day while I get ready for work, I leave NY1 playing in the background. It keeps me updated on the weather and traffic delays, and also provides the sort of delightfully esoteric human interest stories that you can only find on the local news. It's exactly as much information I want to process while still waking up, though there is one thing that, when it airs, will immediately jolt me out of my mediative morning routine because of its sheer intensity: footage of Andrew Cuomo speaking.
Cuomo, who's been governor of New York since 2011, is not one to mince words. He pontificates in a direct manner and that, coupled with his heavy Queens accent, means he manages to sound like a dad giving a tough love talk regardless of the subject at hand. Which, I suspect, is exactly he wants: he has literally referred to himself as a "big tough Italian guy" in more than one speech. (As they say in the old country, mamma mia.) He's long self-styled as a macho man — writer Alexis Grenell explored this extensively in a piece for The Nation back in 2016 — and, in the week since actress Cynthia Nixon announced that she's running for governor, he's obviously doubling down on this persona.
Take, for instance, his behavior at a storm briefing a couple of days after Nixon's announcement — an announcement in which, it should be noted, she took direct aim at Cuomo and his mismanagement of the subway. With the fourth nor'easter in three weeks expected to hit the state, he found himself addressing reporters who mostly wanted to ask him questions about his new opponent. Cuomo brushed it all off as nothing more than "political silly season" and then, as Politico put it, "emphasized his virility with a joke about shoveling snow":
"I welcome the challenge of anyone who thinks they can shovel more loads per hour than I can. I don't want to wager a lot of money on it, however," Cuomo said. "My last record, I believe, was about 600 pounds of snow, shoveled in an hour. I kept the record on that."
Everything else aside, picturing Cuomo frantically shoveling 600 pounds of snow in an attempt to prove that he's both manly and extremely not mad at the prospect of political competition is a great mental image.
Then, on Thursday night, Glamour magazine published an exclusive interview with Nixon, wherein she pointed to his "$31 million war chest" and called him "famously vengeful." When NY1 tried to get him to comment on the piece on Friday, he not only claimed to not have read it, but condescendingly added that he didn't usually read Glamour. He followed the transparent insult to the women's magazine with "and I don't mean to insult Glamour magazine." (Glamour editor-in-chief Samantha Barry has since tweeted that she signed him up for a subscription.)
During that same NY1 interview, he was asked what his favorite Sex and the City character is, a nod to Nixon's starring role as lawyer Miranda Hobbes. He declined to play along, saying only, "I don't have a favorite. I don't want to pick favorites." (A few days before, NYC mayor and Cuomo enemy Bill de Blasio chose Mario Cantone's character, citing "ethnic loyalty." I still haven't decided if this is better or worse.)
There could be dissertations written about Andrew Cuomo and the prevalence of toxic Italian-American masculinity though, for the latter, it's both more fun and a better use of your time to just re-watch The Sopranos. But for the purposes of this campaign, it's evident that Nixon is already unnerving Cuomo. As Ed Kilgore noted at Daily Intelligencer, Nixon announcing her run so early could "provoke the famously averse-to-criticism Cuomo for a long time, exposing the uglier aspects of his personality and possibly encouraging him to overreact in a politically damaging way." So far, it's only been a week — a week in which Cuomo's managed to both be dismissive of his opponent and, through his masculine posturing, betrayed how much of a threat he actually finds her.