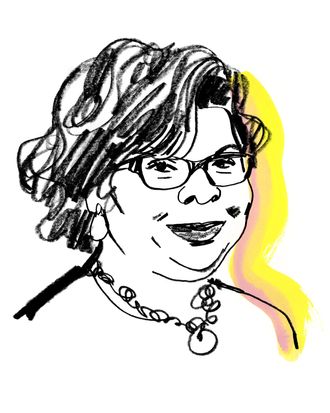 April Ryan.
Illustration: Lauren Tamaki
April Ryan is busier than most of us. Not only does she serve as the White House correspondent and Washington bureau chief for American Urban Radio Networks — she's covered four administrations — but she's also a political analyst for CNN. On top of that, the journalist is often busy writing books (she just finished her latest book, Under Fire: Reporting From the Front Lines of the Trump White House, which will be out this fall) and reluctantly finding her press briefing reactions made into memes. Ryan lives in Baltimore with her two daughters, ages 10 and 15. Here, how she gets it done.
On a typical morning:
Every morning, I wake up at about 5 a.m. I check my calls, texts, emails, and Twitter to make sure I'm on pace for the day. Then I start writing, looking at things and emailing people that I might work with. After that, I'm getting my kids up and making breakfast. I make sure they have their homework, lunches, and everything that they need with our nanny. I'm also fielding calls from sources and following up on things that came up overnight. My first call with my boss is at 7:45 a.m., and we assess what we have going on.
On working at the White House:
Every place is my office — I get calls in my car and I do work at home — but I have a work space in the White House and a seat in the briefing room. My White House workstation is the size of two phone booths put together. It has a lock, a door with a window, and I have a shade on mine. Some days, when people check the room, they don't even know if I'm there or not.
How a typical press briefing goes:
It's a hurry up and wait situation. That's a lot of what we do: We sit and wait for them to talk about what's going on.
On starting out in journalism:
When I started out, I was a DJ (on the radio — I was not a mixologist at parties). That did not inspire me, so I started producing a news segment in college. Then I worked for a station in Baltimore that was once owned by James Brown, and the owner I worked under was the late Dorothy Brunson. She was the first black woman to own a TV station — a trailblazer in broadcast.
On diversity in political journalism:
All of it's a big responsibility: being a woman, being African-American, but also just being a person. That's why we need to have diversity in newsrooms, and particularly in that briefing room. I remember many years ago, George W. Bush said we need more minorities in there because you don't hear a lot of the issues unless it's coming from a person of a certain background. When you're not at the table, you often don't hear stories that are in your community. There are all these problems that have been percolating for a long time, and mainstream news organizations only deal with them when there's a crescendo moment — the Trayvons, the Flints, the Katrinas. There are so many facets of America, and a lot of the American story is untold.
On becoming a meme:
It is bizarre. My reactions are always genuine, and I'm trying to have more of a poker face, but some days you're just so shocked. So I have found a place in meme history and my facial expressions will live on, but I'm not supposed to be the story and I don't like being the story.
On filming TV spots:
It happens wherever I am. I'll get a text message or call asking if I can do this or that, and it all depends if I have time. I'm contracted with CNN so, today for example, they want me to go on with Brooke Baldwin right after the press briefing. I'm going to head to the North Lawn right after to be filmed talking about what's going on.
How she finds time to write her books:
Everyone takes time off to write a book, but I don't. Here's what I do: First of all, I got Microsoft Word on my phone. I write everywhere — on the plane, train — and I even dictate. I can be sitting in the doctor's office, and I'll write. I can be sitting waiting for the briefing to start, and I'll write. I can be sitting with my kids watching a movie and I'll think of something and I'll write. Some days I wake up at 4 a.m. to write. Other days, I wake up in the middle of the night to start writing. You have got to find those stolen moments and carve out time.
On sleep:
I try to get home no later than 7 or 8 p.m., and I usually go to bed around midnight or 1 a.m. I do need a lot of sleep — but I don't get it. On the weekends if I have nothing going on, the best thing I can do is sleep in until 9 a.m. And that's rare.
On receipts:
I really worked hard on Under Fire. It's really not about me or my emotions; it's about the attack on the press. I'm not the typical White House correspondent — I was one of the people that those in power thought they could pluck off. I heard they were surprised that I was such a formidable challenger. Let me say this: I'm not a street fighter, but there's a street game. All you've got to do is sit and watch and you know how to play it. They got a lot of these politicos off-kilter, because a lot of the politicos don't go low like they do.
When they tried to smear me, I was like Oh no, I've got receipts. I've got receipts of everything. My first priority is to be a mother, and then do my job. But that job puts food on my table. That job is going to send my kids to college like anyone else. You're not going to lie on me to take my livelihood away from me. I've been doing this for 21 years, and you just got here.
On online dating:
I'm happily divorced, and I'm dating. Right now my focus is my children, my job, and my book, but you know: I'm single, I go out, I'm happy. But that online dating thing? I've talked to a couple of major-name people — who I will not name — who have told me it's the new way of going to the club and meeting people. I'm very leery of that. So I'm meeting people through friends or different places.
On the Twitter news cycle:
When I started, the political conversation was in the newspaper, TV, and radio. We were getting paper proclamations, speeches, briefing notes, and schedules. Clinton had a computer and he wasn't using it. We were all using flip phones during the early George W. Bush years. Then 9/11 happened and the people who connected with their loved ones were the people who had BlackBerries. Then it started exploding. Obama came in and he wanted his smartphones, and he would put some statements out on Facebook and Twitter every now and then. But now this president totally goes around his press shop in the morning. It is now part of the required reading: You have to be on Twitter to see what this president says and the rebuttal from whomever he's kicking that day. It just adds to the manic pace of the manic day.