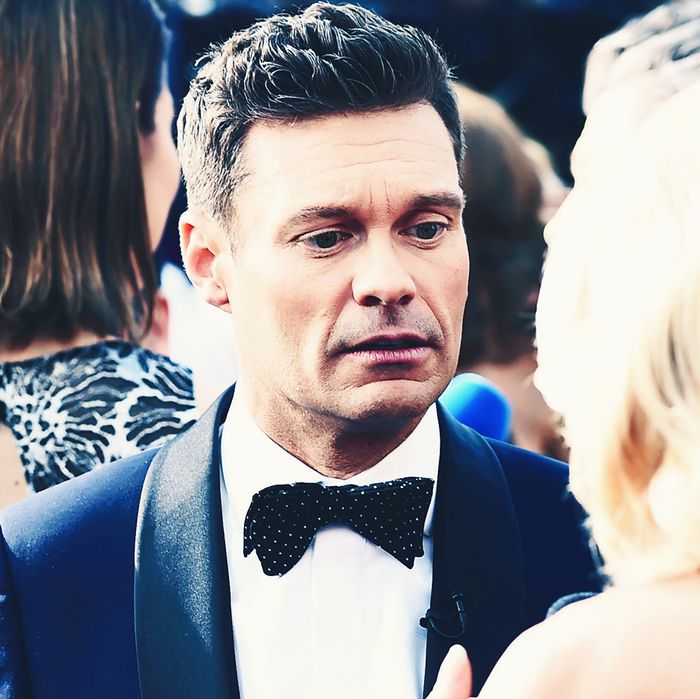 Ryan Seacrest.
Photo: Michael Buckner/Michael Buckner/REX/Shutterstock
Casey Affleck sat out the Oscars this year. Choosing to avoid the potential awkwardness of allowing his history of sexual-harassment allegations to "distract" from the broadcast, Affleck and his publicists made the decision that the 2017 Best Actor winner was safer staying home. (Brother Ben, and much of the usual vanguard of white male Hollywood star power, were also absent from the telecast.) Jodie Foster and Jennifer Lawrence, two largely uncontroversial feminist luminaries — well, depending on how you feel about Mother! — presented the award for Best Actress instead.
At the Golden Globes in January, still in the thick of #MeToo's unpredictable beginnings, the broadcast felt full of moments of radical reckoning happening in real time. Reflecting on that award show, I quoted Rebecca Traister, who'd previously written of the post-Weinstein reckoning: "This is not feminism as we've known it in its contemporary rebirth … this is '70s-style, organic, mass, radical rage, exploding in unpredictable directions." What we were seeing at the Globes, I observed, was "not a television-friendly feminist moment … not Beyoncé at the VMAS, with the word FEMINIST projected in bold caps behind her."
But we're getting closer. Last night, while absent Beyoncé and a giant Venus symbol lit in LED lights, it felt like a well-oiled PR machine had largely caught up to the #MeToo moment. After all, if anyone can find a way to make prickly, unpredictable movements like #MeToo and Time's Up broadcast-friendly, it's Hollywood. At the Globes, women stormed the carpet in black gowns and uncomfortably questioned E!'s red-carpet team about the network's treatment of Catt Sadler. At the Oscars, while E! ultimately opted not to protect Ryan Seacrest with a 30-second delay, people largely avoided the embattled presenter like they were skirting a tuxedo-clad land mine; meanwhile, rival networks took his shaming as an opportunity to assert red-carpet dominance, with Access Hollywood gleefully asking anyone who passed whether they planned to talk to Seacrest.
At the Globes, Natalie Portman served up a moment of genuine provocation with her ad-lib about "all male directors." At the Oscars, Stone paid homage to those remarks, introducing "these four men nominees and Greta Gerwig" — yet she did so with a knowing smile, instead of a flash of genuine fury. In addition to Affleck, many attendees whose presence could have been controversial — like James Franco — sat the ceremony out. Instead, attention remained focused on Hollywood's cadre of leading women: Ava, Frances, Meryl, Salma, Gal, Tiffany, Lupita. While some speeches still felt genuinely organic and inspiring, moments of off-the-cuff political activism were largely replaced by clip packages and feminist sizzle reels. Even Twitter, rightly criticized as a hotbed of misogynist harassment, decided to capitalize on this feminist branding opportunity: They aired an ad that featured feminist slam poetry over images of Ava DuVernay and Issa Rae. (Now, if you use Twitter's #HereWeAre hashtag, a little gold Venus symbol pops up next to it). And three Weinstein accusers — Ashley Judd, Salma Hayek, and Annabella Sciorra — gave some brief and well-scripted remarks, marking what is surely the first time the phrase "intersectionality" was used in an Oscars presenting speech.
This, of course, was all part of the plan. "We certainly want to honor and respect Time's Up and allow that message to be heard," ABC head Channing Dungey said prior to the ceremony. "But we're trying to make it more planned than spur of the moment — it has its moment and then doesn't feel like it overshadows the artists and films being honored." She added: "I would love for every award recipient to not feel like they have to acknowledge it independently." Hollywood's white men, for their part, certainly chose not to.
This is not to say that there weren't moments of real inspiration at the Oscars, particularly from Frances McDormand, whose warrior-woman cry for inclusion riders pointed to an example of actions that might actually help meaningfully rewrite the industry. Kumail Nanjiani and Lupita Nyong'o, paying tribute to Dreamers, felt similarly authentic. Now, unlike in the past, there is a genuine progressive platform (and maybe an audience) for people willing to go out on a limb and take advantage of it. I certainly don't want to undermine the hard work being done by the industry's female activists, who have gone a long way in shifting the conversation. Yet the well-oiled, safely commodified feel of last night's festivities — with opportunities for uncomfortable reckonings increasingly replaced by moments of prepackaged uplift — was more like dutiful lip service than a sign of real progress. Alleged domestic abuser Gary Oldman still won his Oscar. So, somehow, did accused rapist Kobe Bryant — even if his win, unlike Oldman's, didn't feel like a foregone conclusion.
If Hollywood has internalized the lesson that the important thing is to steer clear of Seacrest, keep Affleck from presenting, and then basically go about business as usual, it's hard to feel like we're witnessing a genuine change. Instead, more often, it feels like we're getting a discreetly stage-managed, tastefully censored counter-Hollywood — which may be more appealing to the public eye, but doesn't necessarily reflect improved conditions on the ground. For women who want sweeping improvements to the industry, now is not the time to rest on any laurels: Like McDormand, we'll need to hold onto righteous anger and shout it from the rooftops, lest it be flattened into a tasteful montage or co-opted for an empowering Twitter ad.