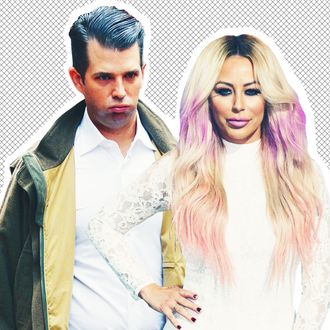 Donald Trump Jr. and Aubrey O'Day.
Photo: Getty Images
Even though Danity Kane singer Aubrey O'Day has already reportedly recorded at least two (2) songs about her alleged affair with Donald Trump Jr., the former Celebrity Apprentice contestant is now apparently refusing to "kiss and tell" about her dramatic relationship with the president's son.
O'Day and Trump allegedly had a months-long affair from late 2011 to March 2012, after meeting on the set of the reality show. And in 2012, O'Day recorded a cover of Gotye's "Somebody That I Used to Know," in which she changed a bunch of the lyrics to be about an affair with a married man (hmm). Then, in 2013, she recorded a more obviously titled song called "DJT," about an affair with a married man who leaves her to return to his normal life.
But according to "Page Six," now that the affair is making headlines, O'Day is reportedly opting to stay mum instead of speaking out (or presumably recording more music) about it. She's apparently recently declined at least one request from a "major morning show" for an interview. Per "Page Six":
"It's not tasteful, and she isn't desperate for some fame or attention, unlike every other woman that has been in her situation," said a source, who was not specifically referring to [Stormy] Daniels or [Karen] McDougal, "She doesn't kiss and tell and isn't looking to hurt people."
However, the gossip column notes that O'Day never signed a non-disclosure agreement, so if she changes her mind, she'll be free to talk about the affair as much as she wants.