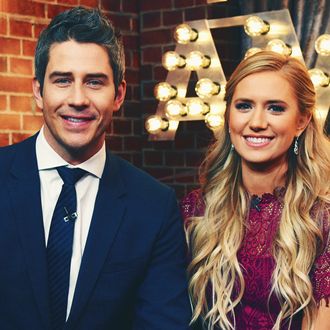 Arie and Lauren.
Photo: Lorenzo Bevilaqua/ABC via Getty Images
Bachelor Arie Luyendyk has put his foot in his mouth once again, and at this point, is anybody really surprised? In an interview with Us Weekly, everyone's least favorite couple, Arie and Lauren, discussed their wedding plans and here's what we learned: They want to get married soon, and may even elope. The ceremony may be at sunset or at night. There will be white flowers. Oh, and Becca, Arie's ex-fiancée, isn't invited. (We're sure she's devastated she can't attend the wedding of a man who dumped her on live television.)
While Becca won't be in attendance, the couple is open to inviting other members of the Bachelor community. "We've thrown a lot of ideas out there, but I think I would like to have some of my friends from the show there," Lauren told Us Weekly. "I think Arie would too." To which Arie responded: "Yes, I wouldn't mind. And just tell Becca she's not invited."
Something tells me Becca has more important things to do.