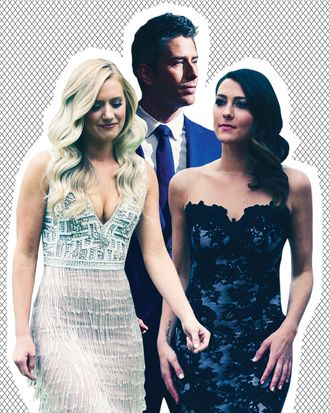 Lauren, Arie and Becca
Photo: Paul Hebert/ABC
Arie Luyendyk Jr. entered the cocoon of last night's Bachelor finale as the franchise's most boring lead ever, only to emerge three hours later as a universally disliked butterfly. For once, host Chris Harrison actually delivered on his promise of "the most dramatic ending in Bachelor history." The 37-year-old race-car driver (and Bachelorette alum) did in fact get down on one knee for the picture-perfect romantic proposal that Bachelor seasons are built around, but then unceremoniously dumped the supposed woman of his dreams in favor of the second-place finisher. Here's what you need to know about how the rose petals fell.
Who Are Becca and Lauren?
Arie's two finalists were originally introduced to America as Becca K. and Lauren B., to differentiate them from, respectively, missing-person Bekah M. and the three other Laurens. To be clear, that is in no way an exaggeration: There were literally four Laurens competing on The Bachelor this season. If you are an American woman named Lauren under the age of 28, it's possible that you may have already competed on The Bachelor without realizing it.
Becca Kufrin is a 27-year-old Minnesota publicist with a good head on her shapely shoulders. Her warmth and high cheekbones made her an early frontrunner — she even won the season's first one-on-one date with Arie (and a free rack of Rachel Zoe gowns, too). Lauren Burnham, a 25-year-old Virginia technology salesperson, was a relative dark horse. Her primary personality traits are: quiet, shy, and blonde. Though she's required much more reassurance from Arie than confident Becca, Lauren also happens to look an awful lot like Emily Maynard, who broke Arie's heart when he came in second on her season of The Bachelorette. As Becca memorably puts it, "Lauren and I are so different. It's like trying to compare an apple to a starfish."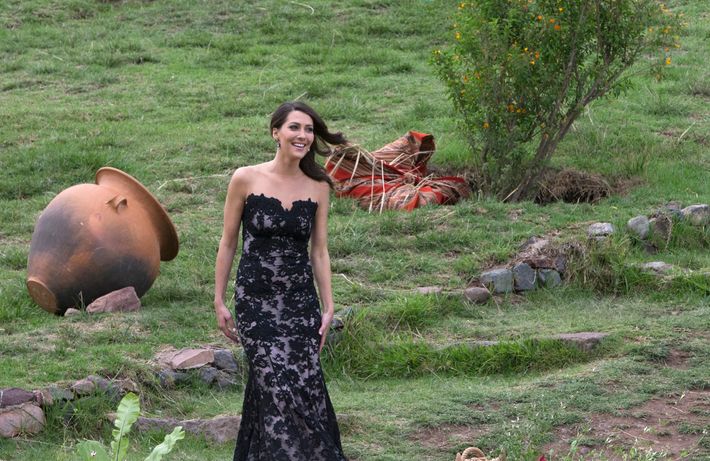 As of fantasy-suites week, Arie told both Becca and Lauren that he loved them, a virtually unheard-of breach of unspoken Bachelor etiquette (outside of Ben Higgins's season) that more or less guaranteed that both women would believe they have the final rose on lock.
What Happened on the "Women Tell All" Reunion Special?
The first unavoidable hint that there was trouble in post-season paradise came with the "Women Tell All" reunion special, which brought the Bachelor face to face with all the contestants (besides Becca and Lauren) he'd rejected. Contestant Caroline Lunny confronted Arie over a grave but unspecified misdeed. "This whole time, you've said that you are here because you are trying to find a wife," she said. "I know what you did, and I don't know how you could do that. I just really don't understand. But I really hope you found what you're looking for."
Arie's equally vague response: "I think that will play out in the weeks to come."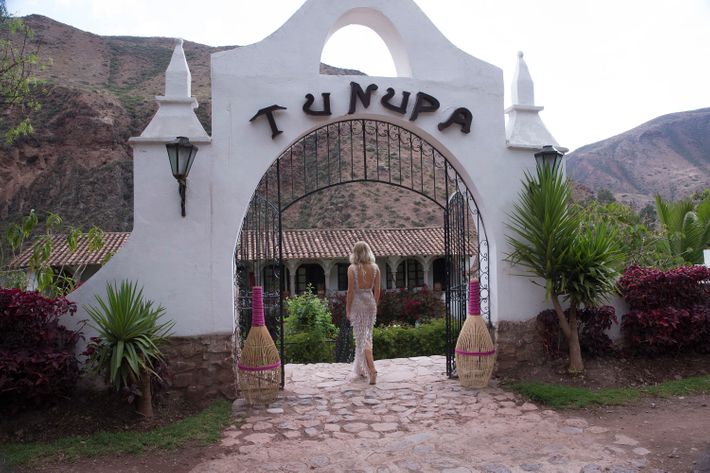 The Final Dates
Throughout their ominously rainy last days in Peru, Arie continually waffles between Lauren, whom he takes to world wonder Machu Picchu, and Becca, whom he takes to some random market somewhere. Arie's family enjoys meeting both women, but they prefer Becca (who later presents Arie with a scrapbook with blank pages reserved for their wedding and "first baby"), because she seems like she'd make for more of an equal partner.
Arie Pops the Question
Shortly after telling the camera she "can't imagine" not getting a proposal, Lauren is "extremely confused" when she does not, in fact, get a proposal. Arie explains that he only made up his mind about whom he wanted to marry once and for all that very morning. "I really think he made a mistake," an understandably distraught Lauren says from the back of her getaway SUV.
While alpacas look on, Arie proposes to Becca and the customary Neil Lane rock lands on her finger. "When are we going to start having babies?" he asks her. "Tonight?" she responds.
Arie Un-pops the Question
Normally, we'd now switch gears to the happy couple chatting about their wedding plans with Chris Harrison in front of a live studio audience. But it's obvious that something is amiss when we're shown a low-res montage of what looks like home-video footage of Arie and Becca blissfully cuddling, playing chess, and brushing their teeth together. Then Arie confesses to the camera that he still thinks about Lauren all the time: "I told Becca I would choose her every day … It kills me that I'm going back on that, but I have to follow my heart." That's right — he's calling off the engagement.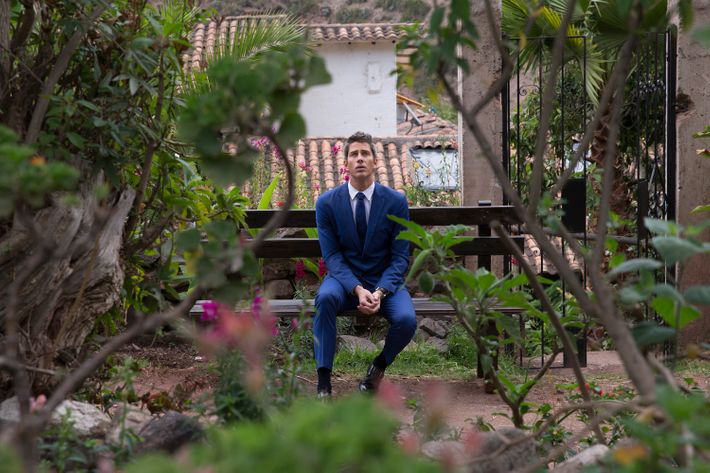 There is a precedent in reality TV's highest romantic court for this action: Bachelor Nation v. Jason Mesnick, who notoriously ditched then-fiancée Melissa for runner-up Molly on the live "After the Final Rose" special. (It's worth noting that Jason — who chatted with Chris Harrison alongside Ben Higgins during last night's finale — and Molly remain happily married, with two kids, making them a genuine anomaly in the Bachelor universe.)
But somehow, what Mesnick did feels positively humane compared to the way Arie ends his own relationship. We watch as characteristically cheery Becca arrives for a "happy couple" weekend in a nondescript safehouse somewhere in Los Angeles, without the slightest idea of the humiliation with which her fiancé is about to ambush her. The breakup, depicted in split screen and — as Harrison eagerly, repeatedly reminds us — in unedited form, amounts to roughly 25 excruciating minutes in total. Like any in-real-life split, it is long and uncomfortable, full of resentful silences interrupted only by crying and crying-adjacent sinus noises.
Apparently, Arie and Lauren had a "conversation" that made him realize the depth of his feelings for her. "So what? You want to get back with her?" Becca asks. "I want to see if there's that possibility," Arie explains. "Are you fucking kidding me?" she says, more than once. (Becca will later tell People that she first became suspicious that there was still something between them when Arie liked some of Lauren's Instagram photos, because he is 14.) She heads into another room to cry off-camera and asks Arie over and over again to leave; he lingers, clearly hoping she'll absolve him of his guilt, which she does not. And to be clear, no, there is absolutely no reason he could not have done this without the presence of a camera crew.
The Immediate Aftermath
We cut directly from the breakup to Chris Harrison's in-studio sit-down with Becca, who's greeted with a roar of applause from the audience. It's hard to imagine that ABC wouldn't make Becca their next Bachelorette after all they've put her through, but as we've just witnessed, betting on the production's humanity is never a smart play. Becca reports that she's had zero communication from Arie following their "brutal" breakup, after which she cried for "probably four days straight."
Unsurprisingly, Arie's behavior was ill-received by Bachelor Nation (for one thing, his Wikipedia page was promptly defaced), as well as by franchise alumni:
What Happens Now?
Are Arie and Lauren together? For now, that's unclear, but we'll know soon enough: The Bachelor and his two finalists will return for another two-hour special airing tonight at 8 p.m. ET. (At five hours, all of this season's Bachelor finale footage will ultimately be 35 percent longer than Lawrence of Arabia.) One can only hope that Lauren returns the favor and rejects Arie on live television.