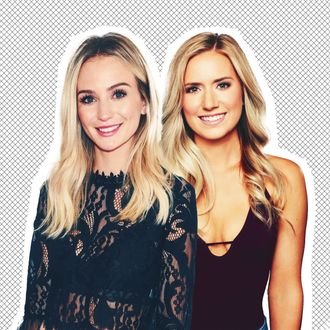 Lauren Bushnell and Lauren Burnham.
Photo: Getty Images, ABC
This season of The Bachelor may have been full of drama (a proposal! a split-screen un-proposal! another proposal!) but more than that … it was full of Laurens. And now that one of the Laurens (kind of) won, fans of the show keep tweeting their thoughts at her. Only, it turns out they're accidentally tweeting at the wrong Bachelor Lauren — one who wasn't even on this season (what!).
You see, there were four (4) women named Lauren on this season of the reality dating/engagement/floral show. Bachelor Arie Luyendyk Jr. shocked the world by not proposing to a Lauren in the show's finale; instead, he first proposed to a Becca. But then he changed his mind, had a painful 30 minute on-screen breakup with Becca, and decided to propose to one of the Laurens. Specifically, Lauren B.
Here's where it gets confusing: It turns out Lauren B.'s last name is Burnham — and there was a previous Bachelor winner named Lauren Bushnell. Now, as People notes, Lauren Bushnell has been inundated with tweets directed at Lauren Burnham. So, Lauren Bushnell has taken to Twitter to explain that she is not Lauren Burnham.
Someone please send help — we're getting too mixed up with all this Lauren madness.