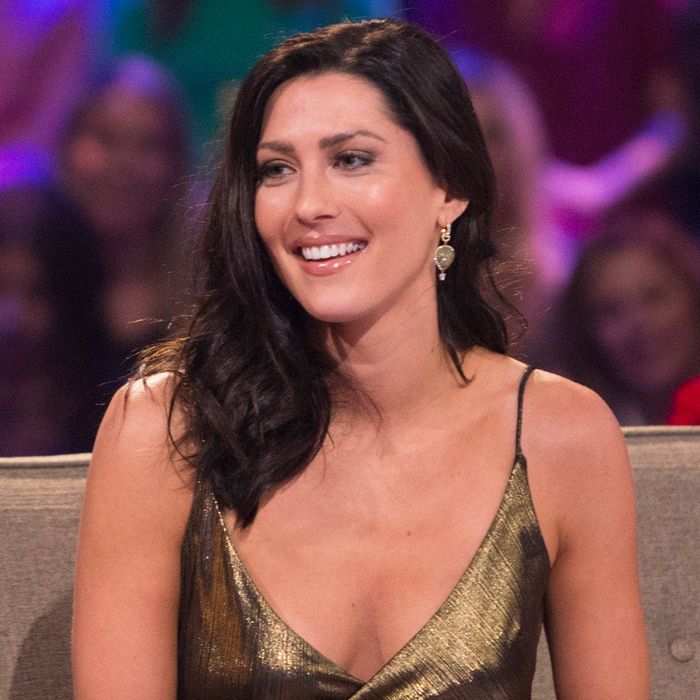 Becca Kufrin, the new
Bachelorette
.
Photo: Paul Hebert/ABC
Just when you thought reality TV couldn't get anymore dramatic, this season of the Bachelor had a traumatic trick ending: one contestant (Lauren B!) lost to another (Becca K!) — and then Bachelor Arie Luyendyk Jr. (ugh!) changed his mind and dumped Becca K. for Lauren B. in an incredibly uncomfortable split-screen breakup. And … this doesn't even include the insane drama of the missing-persons report of a different Bachelor contestant or trying to keep track of all the Laurens on the cast. It was too much!
But while we're still attempting to (somehow) digest the several-lifetimes' worth of drama from that finale, the new season of the Bachelorette has already gone into production (help!). This time around, the lady of the hour is the previously scorned Becca K. (also known as 27-year-old Becca Kufrin). And, much to our delight (and anxiety), the executive producer of the show, Mike Fleiss, has been posting some behind-the-scenes pics of the new season.
Here's Becca with host Chris Harrison:
And check out at this crazy Bachelorette house we want to live in, how much is rent do you think?:
And also … the literal limo from which the contestants will emerge. Are you kidding us?:
How the sausage is made. (Or, inside the control room):
Here's Becca, Chris, and the crew:
And finally … the MEN!!! Including one in a chicken suit, we give up:
One of them is wearing a freaking vest:
Excuse us while we call our therapists to cope with the impending additional drama we'll soon have to endure when the show airs this spring on ABC.