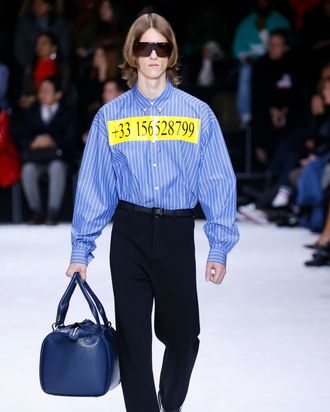 Balenciaga fall 2018.
Photo: Estrop/Getty Images
Instead of calling my mother this weekend, I picked up the phone and dialed the Balenciaga hotline. The number for said hotline was printed across pieces from the brand's fall 2018 collection, which showed in Paris on Sunday morning.
The show was staged in front of a man-made, graffiti-clad snowboarding mountain, which reportedly took four weeks to build. Instead of last season's platform Crocs, the collection included gorpcore sneakers; layered, "absolute unit" coats; and velvet, neon turtlenecks that would surely scare away any first date.
Creative director Demna Gvasalia also chose to give his clothes a greater purpose this season by including shoutouts to the World Food Program. Balenciaga has already donated 250,000 euros to the organization, as well as pledged to donate 10 percent from every fall 2018 item sold. I assumed the hotline would have something to do with this, but I was wrong.
"Hi and welcome to the new Balenciaga hotline," says a friendly robot when your call to France connects. "We would like to ask you a few questions."
By a "few" the robot means 20. Before beginning, you are informed that all of your answers are "strictly confidential," so feel free to spill all your deepest, darkest secrets.
The first question asks you to identify your gender, while also allowing you to select a non-binary option – a signal from the brand that this isn't your average solicitor survey. Questions then get more specific, asking your shoe size and height. I was absolutely positive by question three that I was going to be told which Balenciaga Triple S was right for me.
Then, the questions got a little weirder: What is your favorite taste? What is your favorite shape? What is your favorite type of transportation? (Segways weren't an option, despite their inclusion in the brand's fall 2018 men's lookbook.)
My call lasted six minutes in total, and I was shamefully willing to fork over all my personal information in the hopes of getting something, anything, in return. This being the Balenciaga hotline, however, of course I didn't get anything in return. Instead, I was trolled. And I had to pay for an international call.
"Thank you for taking the time to answer our questions," the chipper robot says at the end of the call. "All data will be erased now. The new Balenciaga hotline wishes you a great day."
Take the Balenciaga quiz yourself, below.
Question 1: What is your gender?
1) Female
2) Male
3) Transgender
4) Other form of gender identity
Question 2: Which of the following cities do you like the most?
1. Berlin
2. London
3. Beijing
4. Paris
5. Seoul
Question 3: What is your shoe size?
1. Between 34 and 37
2. Between 38 and 40
3. Between 41 and 43
4. Between 44 and 47
Question 4: Please choose a color.
1. Gray
2. Black
3. Yellow
4. White
5. Blue
Question 5: What is your body height?
1. Between 150 and 160cm
2. Between 160 and 170 cm
3. Between 170 and 180 cm
4. Between 180 and 190 cm
5. Between 190 and 200cm
6. More than 200 cm
Question 6: What is your favorite season?
1. Summer
2. Winter
3. Spring
4. Fall
Question 7: What is your favorite destination for vacations?
1. Beach
2. City
3. Mountains
4. Countryside
Question 8: Do you wear prescription glasses?
1. Yes
2. No
Question 9: What is your favorite taste?
1. Bitter
2. Salty
3. Sour
4. Sweet
5. Umami
Question 10: What is your favorite type of music?
1. Metal
2. Pop
3. Electronic
4. Hip-Hop
Question 11: What is your favorite type of transportation?
1. By foot
2. By train
3. By airplane
Question 12: Please choose a hair color that matches you the best.
1. Black
2. Brown
3. Blonde
4. Red
Question 13: Do you have a pet?
1. Yes
2. No
Question 14: What is your favorite shape?
1. Round
2. Rectangular
Question 15: What is your primary language?
1. English
2. Chinese
3. Spanish
4. Arabic
5. Japanese
6. Korean
7. Other language
Question 16: Do you have any siblings?
1. Yes
2. No
Question 17: What is your age?
1. Under 20
2. Between 20 and 29
3. Between 30 and 39
4. Between 40 and 49
5. Over 50
Question 18: What is your current marital status?
1. Single
2. In a relationship
3. Married
4. Separated
Question 19: What is your highest level of education?
1. High school
2. College
3. University
4. Doctorate / PhD
5. Other
Question 20: What is your professional or employment status?
1. Employed
2. Self-employed
3. Student
4. Retired
5. Out of work