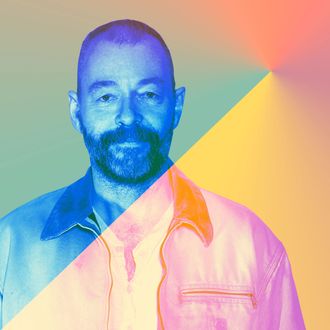 Photo: James Gibbs. Illustration: Stevie Remsberg
If you turn up at the West Village home of legendary makeup artist Dick Page, there is a high likelihood that you will be served a meal. Just be ready to roll up your sleeves and bring your microplaning A-game.
"I like nosy guests who come over to see what's cooking," smiles Page, carefully lifting a ginger cookie freshly baked by his husband, the writer and dramaturg James Gibbs.  "I'm less interested in guests helping clean up afterwards, but I love the ones who help out during. I'm not fussy about it, and since we live in an open loft, I can't really hide."
Thanks to Instagram, Page's gastronomic feats have made him nearly as famous as his makeup ones (for the unenlightened, @dickpageface).
"We've been on quite a Moroccan kick since I was there last year," he explains. "We make this bessara soup with split dried fava beans, garlic, lots of cumin, olive oil, and as much water as you want, depending on whether you're in the mood for soup, a spread, or a dip. There's always a recipe at some point, but I riff on it. It's guess it's confidence, but it's also knowing the rhythm of things."
Page's artistic gene expressed itself early. Long before he became one of the most famous makeup artists in the world, he and his teenage posse would hone their makeup and hairstyling skills on each other in his hometown of Nailsea, England, just outside of Bristol. Milliner Stephen Jones asked Dick to do the makeup for one of his first shows, and eventually his work led him to Juergen Teller and stylist Venetia Scott. Another stylist, Melanie Ward, introduced him to photographers Corinne Day and David Sims. Page's portfolio grew until he eventually found himself hired to do the makeup at Calvin Klein's fall '93 runway show. Page's minimalist approach — he dabbed eyelids with Vaseline and cheeks with lipstick, in what would become a signature move — sold Klein on the spot. After that, everyone in beauty and fashion knew his name.
Page remains a regular on the runway circuit. He spent ten years each as artistic director at both Inoui and Shiseido, and his work has graced the covers of every magazine from Vogue to The Gentlewoman multiple times over.
I used to be intimidated by Dick. His resting face is intense, exposing glimmers of impatience. His playful Instagram selfies showed me he's more fun than he might initially seem, but he's no pushover. It's not so much about not suffering fools gladly as it is about an impatience toward the uninformed.
"I don't understand the incurious," he says. "If I'm training an assistant and I bring up a reference they don't know, I think, 'How do you not know that writer or film or book?' Of course, there are massive gaps in what I know and don't know. I'm just saying you should have an understanding of the general history of your metier and the world you're in. Go to a museum once in a while!"
Page brewed a pot of tea to speak with the Cut about kevlar-threaded denim, Bridget Everett, and his love affair with the Instant Pot.
When you were a child, what did you wish your name had been?
There's always the cool person at school, isn't there? Mine was a bit of a wonk actually, and his name was Warwick, which I thought that was a genius name. Very British. He also had a flash of white in his hair, which he was, of course, tormented for, but I thought it was very cool.
Jeans of choice:
Gustin. These have kevlar in them. I'm not a snob about the brand, but I like the fit and their shirts are a great fit, as well. The coolest part is, they'll announce a project, and only if enough people order them will they make them. There's no waste.
Watch of choice:
I don't wear one. I've always got makeup on my hands and my wrists, so it would get in the way. Me and the world of luxury goods? I just don't get it. The purse thing is a mystery. The idea that people drop an insane amount of bank on a bag just blows my mind.
What do you carry your things around in, then?
A Burton backpack. All my luggage is Burton, because it's sturdy and comes in very identifiable patterns. How many times have you seen people grab a suitcase off the carousel then put it back on again? Get the bag you can recognize.
Scent of choice:
The go-to is Guerlain Habit Rouge, but lately I've been wearing a new one. Don't laugh. It's called Beaver by Zoologist Perfumes. It's this guy in Canada who makes fragrances based on animal ingredients using synthetic notes. So, I'm cheating with a Beaver.
Go-to karaoke song?
I haven't done it for a long time, but it used to be "Paper Moon." The Nat King Cole version.
What is a lost art?
Conversation, of course. Also, looking where you're f**king going. I saw a girl walk into a blind man on the street the other day because she was texting.
Preoccupation:
I'd say the current administration and the way that shitfield yam running it is so mercurial and crazy. It takes too much energy, which, I think, is the intent. You can't maintain that outrage. It's exhausting.
Current obsession?
The Instant Pot has changed my life. I've had it for about a year, and it's gotten to a point that I use it three times a day.
What is your weakness?
Impatience. The kind that, if i'm not careful, will slip into anger.
What can you not resist?
A book shop.
Favorite app:
I'm probably over-reliant on the Instagram thing because it's very entertaining. I've made some very interesting connections through it, like French photographer @laurentchampoussin. And I've gone to museums I wouldn't have gone to, I've read books I wouldn't have otherwise read, all from Instagram recommendations.
Favorite Instagram:
@michelegaubert, @davidshrigley
What or who makes you laugh?
Bridget Everett. She's so demented. She did one song about her breasts on her show that was one of the few times I've been shocked and laughing my ass off at the same time. Sarah Silverman for weirdness, and also brilliantly Kristin Wiig for sometimes actually not doing anything. The funniest thing I've seen in years was Kate McKinnon doing Casablanca on SNL.
Favorite meal and where:
Weirdly, in Matsumoto, where we had horse-meat sashimi. Basashi. It was an incredible moment. It's very rarely the plate, though. It's usually the experience.
Favorite spot in the world?
Iceland in Summer, and Venice in Winter. That would be ideal.
What do you foresee as the top beauty trends in 2018?
No such thing.
Here we go …
No, listen! It's the Jonathan Miller thing and I think it applies to trends. Miller was part of the Beyond the Fringe scene in the '60s, and he's actually a medical doctor who also directed opera and theatre. He said he was challenged by an actor one time about the nature of fame. He said, "Fame is a mathematical conceit. You are known by more people than you know." And that's how I feel about trends. The thing with the most attention, or sales, becomes the trend. At the end of the shows, you add them up. "Let's sweep the room and see what we've got: a pile of black eyes, some bleached eyebrows, a pile of red lips. Which pile is bigger? The pile of red lips? That's the trend. To paraphrase Carlyne Cerf de Dudzeele, "Je mon fou! I don't care! I don't care!" And that's it for me.
What are you working on mastering?
Probably some version of a Korean dish, like kimchee.
If you won the lottery tomorrow, what are the first five things you would do? (after, of course, donating the majority of it to your top charities … )
I'd open a restaurant, create a makeup line, open a bookshop, record store, and then … It would be amazing to have a space with all the aforementioned under the same roof. Food, books, music, makeup, maybe secondhand kitchen supplies, fun stuff like that. And seeing as how I'm as rich as Croesus now, all proceeds could go to charity. I love the vibe of Housing Works, so that could be a model for it.