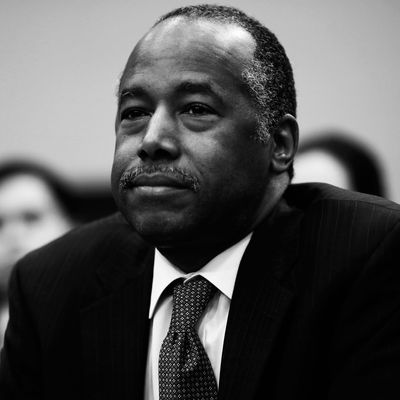 Ben Carson.
Photo: Aaron P. Bernstein/Getty Images
On Tuesday, Ben Carson testified before a Congressional hearing that his wife Candy had the final say over the now-infamous $31,000 dining set ordered for his office — but not for decorating purposes. Instead, the secretary of Housing and Urban Development explained that the expensive table, chairs, and hutch were picked out for safety's sake. Huh.
Last month, Carson found himself under fire after it was revealed that HUD splurged on the fancy dining-room set for his office (while simultaneously slashing public housing funds). At first, Carson said he didn't know it had been purchased — and even tried to cancel the order. But last week we (finally) learned the truth, thanks to emails recently obtained by watchdog group American Oversight through the Freedom of Information Act: Carson was involved in selecting the set, though he also enlisted the help of Candy.
Testifying before Congress, however, Carson basically placed all the blame on Candy. Trying to explain why he didn't adhere to the federal $5,000 cap on spending, the politician said that Candy and senior staffers made the final decision on the dining set while he was busy doing other things. Besides, he'd go for something far more sterile if he had the choice.
"If it were up to me I would decorate my office like a hospital waiting room," the neurosurgeon said. Then, referring to an aide's concerns that his office's old dining table was falling apart, he continued, "People were stuck by nails, and a chair had collapsed with someone sitting in it."
If only someone told the Carsons that IKEA has some pretty cheap and sturdy dining-room options …