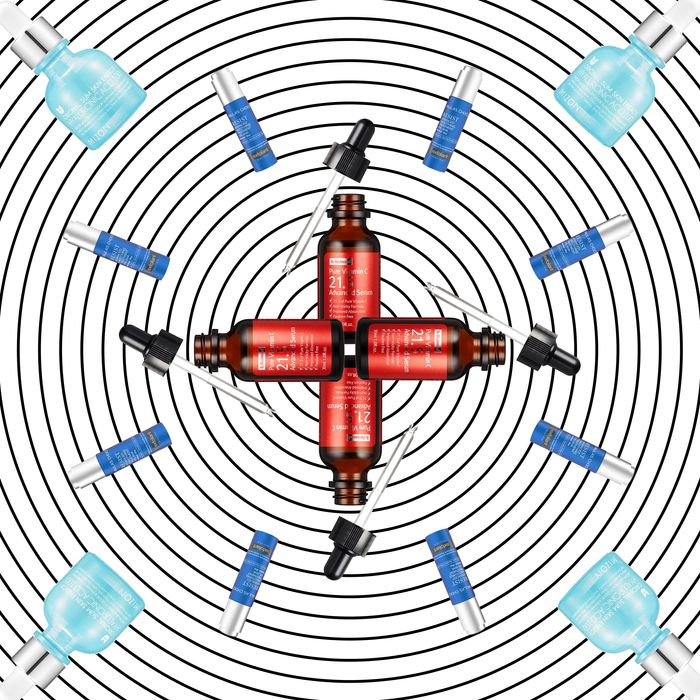 If everyone is obsessed with skin care right now, then at least half of everyone must be obsessing over their budget, too. Pretty lotions and face treatments are often expensive, and who has the time to search for cheaper alternatives? Well, the Cut does.
The Ordinary's super-cheap line filled the affordable skin-care void for a while, but it's tough to say what's going on over there these days. You deserve a face cream that's affordable and drama-free. To that end, the Cut rounded up 12 hero skin-care products that are under $40.
Salicylic acid (otherwise known as beta-hydroxy acid) is a chemical exfoliant that dives into pores to clear out acne. It carries both preventative and ongoing treatment qualities, so you can pat it on clear skin to prevent clogged pores, or you can cover pimply skin with the acid to shrink big zits. Unlike the acne treatments of yore, salicylic acid isn't drying. Here are a few to consider:
You can select from two different 2 percent salicylic acid textures at Paula's Choice. Both carry an identical concentration of the star ingredient; the gel version dries quickly to a smooth, matte finish, while the liquid version is lighter and easier to layer under a serum.
If you have skin that is especially acne-prone, Paula's Choice's 4 percent salicylic is an exciting option. It's a more intense version of the 2 percent formulas and intended for weekly use.
The Smooth Skin Generators
Alpha-hydroxy acids are like sand blasters, but for your face. The exfoliants are similar to salicylic acid; however. AHAs are much more adept at smoothing the texture of your skin. There are a number of cheapie options you should get to know.
Think of Cosrx's 7 percent AHA formula as your starter acid. The liquid delicately smooths the texture of your face after only a few applications, and it's gentle enough for daily use.
Ready to get serious about exfoliation? Here's your ticket. The lotion-like formula is equipped with 10 percent glycolic acid, the most popular form of alpha-hydroxy acid. Slowly incorporate it into your routine so your skin can adjust to the acid.
Squeeze several drops of Mizon's 8 percent glycolic acid onto your face. The serum pairs well under SPF or you can apply it before bed, under a nighttime moisturizer.
The All-Purpose Miracle-Makers
Because they can trigger flaky, irritated skin, retinoids are a pain to add to beauty routines, but don't quit! The irritation will disappear after a week or so (if the irritation happens at all). Retinoids exfoliate like alpha-hydroxy acids, but their effects are much more pronounced. Most notably, they are powerhouse acne fighters, wrinkle reducers, and they smooth away emergent fine lines.
Spread a pea-size amount of the 0.1 percent retinoid gel-cream all over your face as part of your daily skin routine. It dries matte and doesn't pill when topped with moisturizer, and after eight weeks of consistent use your face will reemerge pimple-free.
Look to Alpha Skincare's Wrinkle Repair Cream for a higher concentration of retinol. The 0.15 percent formula melts into your skin, and it's buffered with vitamins C and E to swaddle skin with antioxidants.
There's no hydrator quite like hyaluronic acid, which holds up to 1,000 times its weight in water. You can use it on your skin or your hair for a blast of moisture. Like hyaluronic acid, marula and argan oils are lightweight, but they are most effective when on top of a cream or serum, to seal in hydration. Squalane is also an oil, but it doesn't feel like one at all. Instead it has a texture closer to that of a serum. The oil mimics your skin's natural sebum, which in turn keeps your face smooth and soft.
Pat a few drops of this incredibly light serum on your skin and never face a dry-skin day again.
One Amazon reviewer left this ringing endorsement of the oil: "I live in SW Florida and have sailed down here for 10 years. Squalane has saved my face from becoming leathery like so many of my sailing buddies'."
Turn right at the Two Buck Chuck wine display and you'll run straight into Trader Joe's argan oil. The lightweight oil delivers skin-boosting antioxidants. Mix a few drops with your moisturizer to stop dry skin.
Vitamin C as a cold-preventer is dubious, but vitamin C as a skin-brightener is a science-supported fact. You'll need to be careful when you're stocking up on bottles of your own because there's a tradeoff at play: the purest formulation of the vitamin — L-ascorbic acid — loses its potency when it is exposed to sunlight and air. Derivatives and synthetic versions of vitamin C are more stable and longer lasting, though they are not as effective as the vitamin in its purest form. These complications make vitamin C one of the more expensive skin-care ingredients on the market.
The airless pump stabilizes the vitamin C in this serum to extend its shelf life. Choose from two concentrations: 15 percent or 20 percent L-ascorbic acid. Both options are mixed with ferrulic acid and vitamin E, which amplifies the effectiveness of the vitamin C.
Pick this up for a megadose of vitamin C. Each bottle contains 21.5 percent ascorbic acid.
If you buy something through our links, New York may earn an affiliate commission.