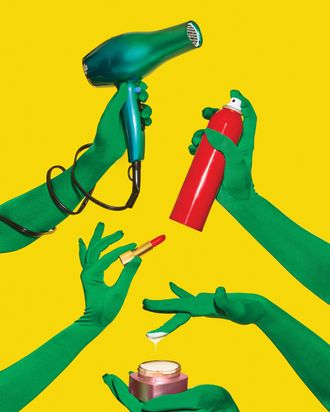 Gloves by We Love Colors.
Photo: Bobby Doherty/New York Magazine
Every year, we go through the ritual of rounding up the best dishes to order, shops to peruse, cocktails to drink, and handy people to hire. And every year, even as we mourn a few losses (farewell, Saltie sandwiches; so long, Hi-Fi bar), we marvel at all the ways New York manages to be much more than a bunch of banks and Duane Reades. This year's best-of list in the health and self category includes  pregnant workouts, a keratin alternative, a tell-it-like-it-is astrologer, and more.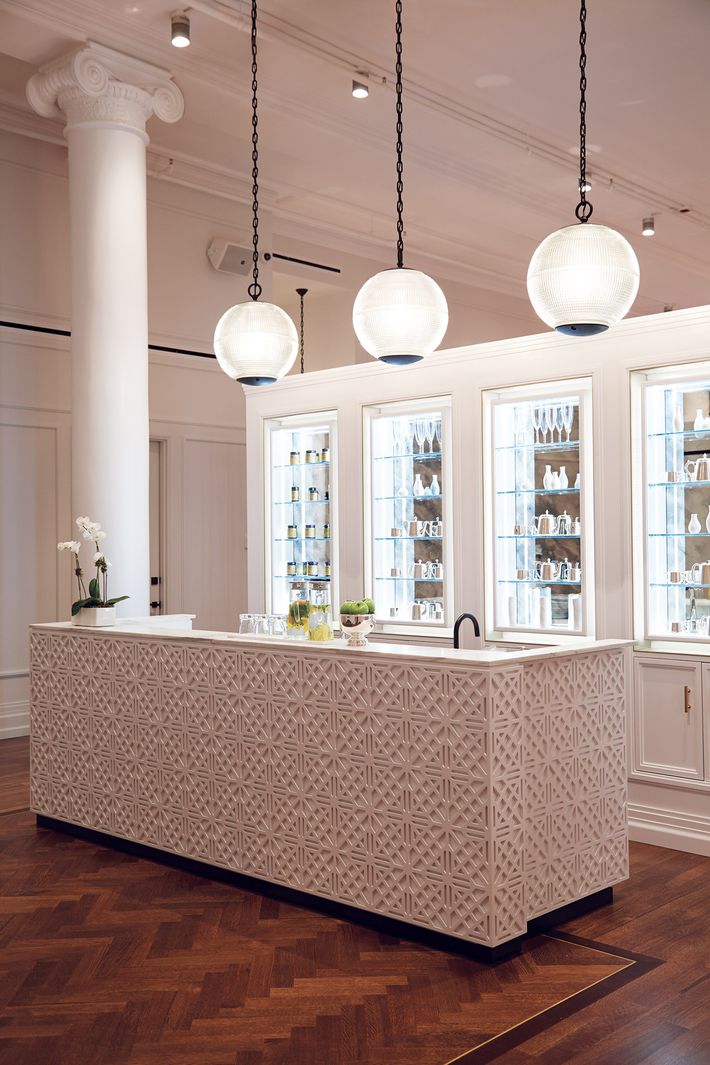 Facial
Rescue Spa
29 E. 19th St., nr. Broadway; 866-772-2766
Rescue Spa's secret weapon is its owner, Danuta Mieloch, an aesthetician who's been in the business for over 15 years and has, finally, brought her sought-after Biolift facial from Philadelphia to New York. Mieloch swears by real science and takes plenty of time, more than most facialists, to ask questions and diagnose your skin's needs before choosing a mix of Biologique Recherche cleansers, toners, and serums to apply to your face — there are no cookie-cutter formulas here. The Biolift, which includes electric microcurrents administered via a Biologique remodeling machine, costs $500 with Mieloch ($200 with one of her well-trained staffers) and is by far the most popular item on Rescue's menu, thanks in no small part to the euphoric reviews from clients who leave feeling glowy and pristine, not red and puffy. And — if further proof is needed — among those who trust Mieloch with their pores is Naomi Campbell, whom we saw walking out one time.
Mouth-Guard Upgrade
Dr. Jared Shore
30 Central Park S., nr. Sixth Ave.; 212-832-0808
"Sleep bruxism," or nocturnal teeth-grinding, sentences victims to headaches, cracked teeth, and, usually, nights spent in cumbersome mouth guards. From a Central Park South office (with a great view of the pond), Jared Shore, DMD, performs a small act of magic for his molar-crunching patients in the form of 28 units of Botox (from $500). The injection targets the muscle group responsible for grinding, meaning that it won't affect your talking or chewing. It also doesn't leave skin looking stretched tight. The procedure takes ten seconds per cheek, feels like a tiny pinch, and can halt grinding for at least four months. Shore learned about the treatment seven years ago in an effort to stop his own grinding; since then, its popularity among his patients has skyrocketed, creating a word-of-mouth cult following encompassing entire families and office departments that flock to Shore for nocturnal relief.
Astrologer
Russ Ross starts his hour-long astrology readings with your birth chart. He uses software like Astro Gold and Solar Fire to show where stars and planets will align, which, to Ross, might mean something like: "Some communication shit will go down with your boss this spring." Such is the charm of Ross, a tell-it-like-it-is astrologer and tarot-card reader who sees clients from his Astoria apartment or over Skype appointments. Ross follows a contemporary approach to readings, using new interpretations (for example, old-school astrologers have Venus as the ruler of Libra, but Ross studies it with dwarf planet Eris as the ruler) and explaining them in straightforward terms: "I swear like a bitch, and people tend to like that," he says. At $175, Ross's sessions don't come cheap. But anyone can sign up for his free Cosmos Weekly newsletter, peppered with GIFs and cosmic encouragements.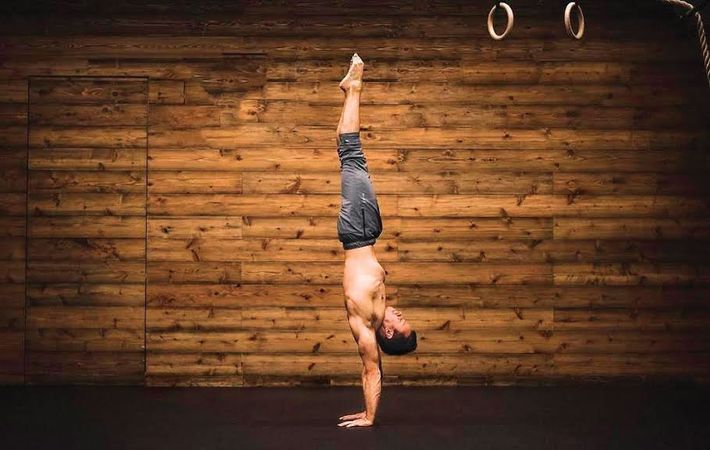 Handstand Coach
Dave Durante
dave@powermonkeyfitness.com
Maybe it was the Olympics. Maybe you just want a new party trick. Either way, you've decided you want to do a handstand. You'll want to enlist the help of Dave Durante—a USA Gymnastics champion, an alternate for the 2008 Beijing games, and a former Stanford coach.Durante starts beginners with wrist-swiveling exercises and shoulder rolls, and makes them lean against walls upside down, holding flexed abs, for what feels like an eternity ("Last set, best set" is a Durante mantra) until you're upright, upside down, and walking on two hands. Durante holds private lessons at Solace gym in Kips Bay for $200 a ­session—and depending on your fitness level and tolerance for humiliation, you'll need more than one—but his training company, Power Monkey Fitness, also offers group classes at lower rates.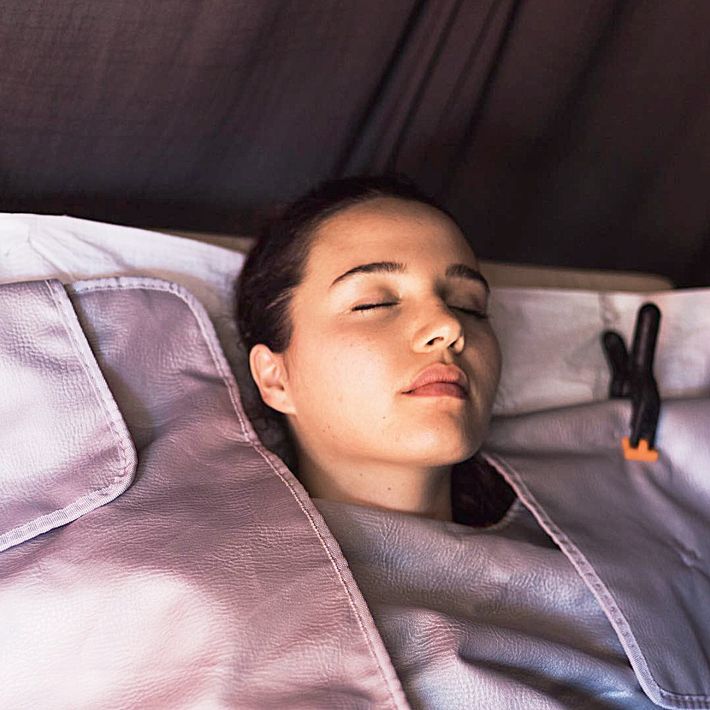 Couch-Potato Workout
Shape House
1316 Madison Ave., nr. 93rd St., first fl.
34 W. 17th St., nr. Sixth Ave.; 855-567-2346
In incredible news for lazy people, Shape House, the studio that replaces working out and sweating with lying down and sweating, arrived in New York last year. Born in Los Angeles, Shape House is an "urban sweat lodge" where patrons pay $70 for 55 minutes of skin-improving, metabolism-boosting, mood-lifting perspiration. Clients don the spa's special sweats, climb into a fancy, hospital-like bed, and get wrapped like a burrito in several blankets tricked out with far-infrared-light technology, meant to kick-start the body's thermoregulatory response. Treatments can get uncomfortably hot but still require far less discipline than, well, just about anything. Plus, each private station comes equipped with a television and Roku stick, meaning glowing skin and an elevated spirit are just a few Netflix episodes away.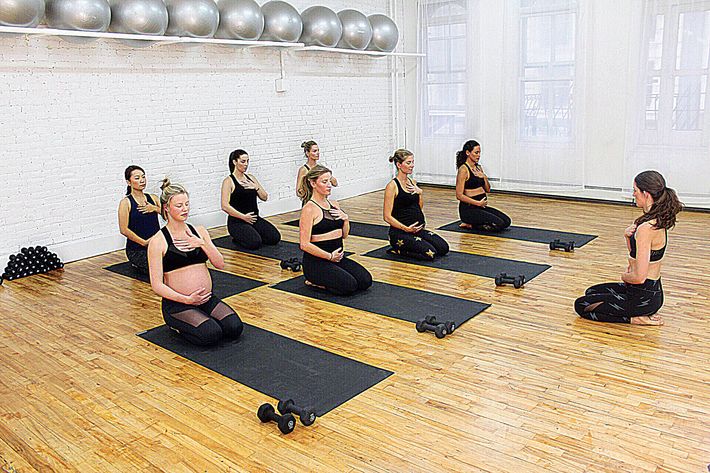 Maternity Gym
Fit Pregnancy Club
552 Broadway, nr. Prince St., third fl.; 646-998-4611
Expectant moms tend to get stuck in either too-gentle prenatal yoga or are left to lamely modify high-intensity classes, feeling like the gestating elephant in the room. Fit Pregnancy Club, by contrast, offers $40 classes like their signature one, which mixes hand weights (eight pounds, around the weight of a typical newborn), dance and cardio exercises, and barre-influenced core moves into a regimen designed specifically for pregnant and postpartum women. Popular too is the Pump & Kegel, which focuses on the titular pelvic-floor muscles. Co-founders Carolina Gunnarsson and Joanie Johnson, who's a pre- and postnatal corrective-exercise specialist, decked out the space with millennial moms-to-be in mind (there's a pale-pink wall with custom neon and large potted plants) and sell leggings from the Blume Collection up front.
Keratin Alternative
Ty Holbrook at Serge Normant at John Frieda Salon
336 W. 23rd St., nr. Eighth Ave.; 212-879-1000, ext. 2
A universal truth about people with frizzy hair is they spend an inordinate amount of time trying to tame it. A good-hair day requires time that few have, but keratin treatments leave you with chemically damaged hair (and potential respiratory issues). An alternative: the "Magic Sleek" treatment performed by Ty Holbrook ($200 an hour; it typically takes two to three hours) that uses "Amazon rainforest" plant extracts and oil used to soften leather in tanneries. Unlike keratin, it doesn't include formaldehyde, meaning Holbrook can skip the face mask, leaving him free to tell you about Magic Sleek–ing James Franco's and Sarah Jessica Parker's curls. Also unlike keratin treatments, there's no three-day waiting period before washing your hair. The process lasts up to six months, during which time clients get smooth, shiny hair that falls just right. No snaggles, no fuss, no ornery waves wiggling out of ponytails.
Haircut for Asian Men
Jay Bobo at Astor Hair
2 Astor Pl., at Broadway; barberjay.com; 212-475-9854
Since 1987, Jay Bobo has worked at Astor Hair, a barbershop with fluorescent lights, baseball on TV, and walls plastered with yellowing pages ripped from GQ. At any given time, there are two or three men waiting for Bobo. And more often than not, those men are Asian. It's no coincidence: Bobo—Barber Jay to his clients — has a well-burnished reputation among Asian-American men, who wait for Bobo's $18 haircuts even when other barbers have empty chairs. Stick-straight Asian hair can be unforgiving when short: Shorn hair buzzed at uneven angles can't be easily concealed by matting it down with gel. Bobo's speciality is precise buzzwork done with his Wahl clippers, which he uses to craft cuts that stay short on the sides and long on top but at razor-sharp specific angles that flatter his clients' individual head shapes.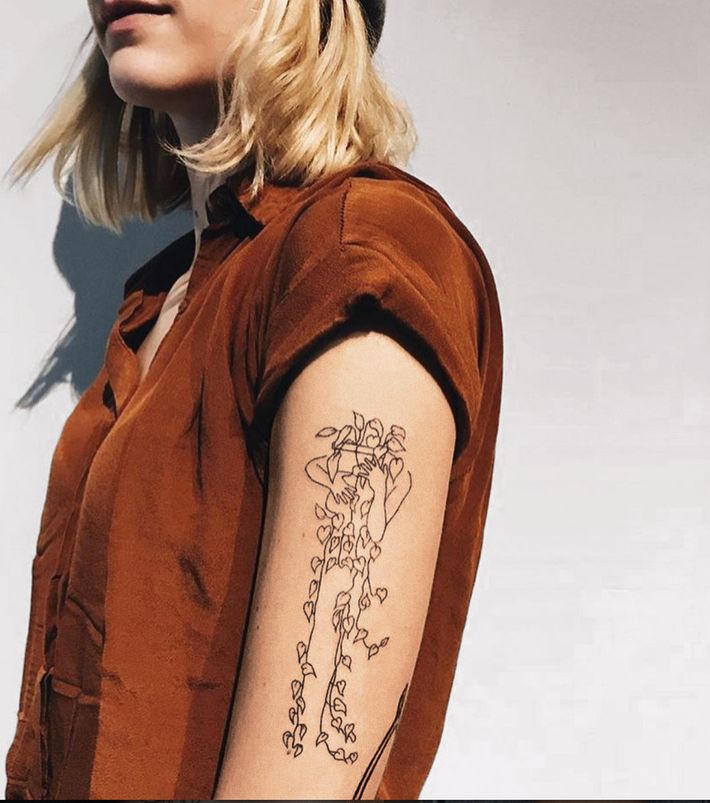 Feminist Tattoo Parlor
Welcome Home
For appointments, email hello@welcomehome.studio
Brooklyn's seen a steady surge in women reclaiming the tattoo parlor (as evidence: A co-founder of the flowery new Carroll Gardens shop Nice Tattoo is a woman with GRL PWR knuckle ink), and the arrival of Welcome Home might be the crest of that wave. Tucked away in northern Greenpoint, in a bright warehouse with white brick walls hung with woven wool tapestries, the by-appointment-only shop belongs to two artists who call Welcome Home a safe space, reject machismo talk, and aspire to help women heal from trauma or body dysmorphia through their ink. Their style is also a rebuke to tattooing's traditionally masculine past: Instead of the usual Gothic script and pinup-girl tropes, Welcome Home's artists draw illustrative line tattoos of outstretched palms, fairy-tale-esque bunnies, or pears growing on a branch. (Prices and address available upon request.)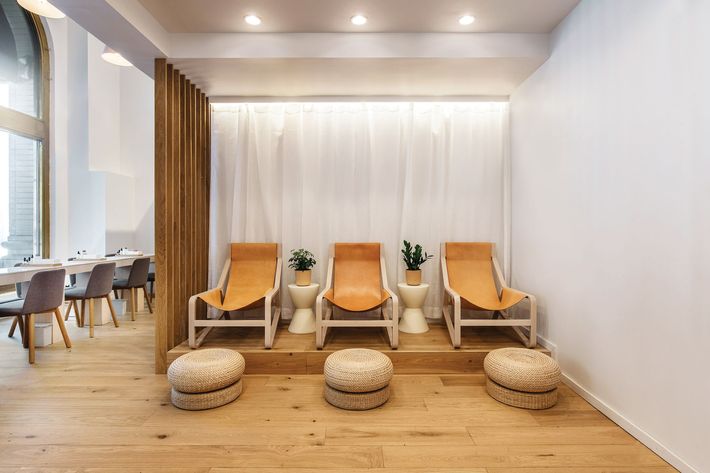 Nail Rehab
Sundays
51 E. 25th St., nr. Park Ave., and Saks Fifth Avenue at Brookfield Pl.
225 Liberty St., nr. West St.; 646-998-5711
To heal the thin, brittle nails left behind by gels, a growing number of organically minded salons are focusing on nail care in addition to art. One such nail rehab is available at the airy, plant-filled Sundays salon, which offers an anti-aging hand treatment ($45) in which manicurists, sitting at handmade Danish tables, gently remove old polish, soak nails in a warm coconut-milk bath, exfoliate them with a housemade orange-peel scrub, and massage cuticles with a natural blend of jasmine and rose oil, leaving them smooth, strong, and shiny. To double down on the restorative treatment, you can even opt to download a custom Inscape guided meditation during the service.
Hair Thickener
Harklinikken
66 E. 55th St., nr. Park Ave.; 813-414-0100
"Plant extracts with enzymes from cow's milk." Those are the curious, active ingredients in the topical elixir solutions sold by Harklinikken, a hair-loss treatment clinic and recent import from Denmark. Lars Skjoth is the affable chemist and nutritionist who founded the clinic in 1992 — he had a hunch about how bacteria could affect skin follicles and regrowth — and his proprietary formula goes on the scalp at night. After an initial in-person consultation of $350, the products cost between $110 to $160 a month and take around four months to start working, but they've been called "the real deal" by clients, particularly women who saw new growth around widening parts and at the temples.
*This article appears in the February 19, 2018, issue of New York Magazine. Subscribe Now!