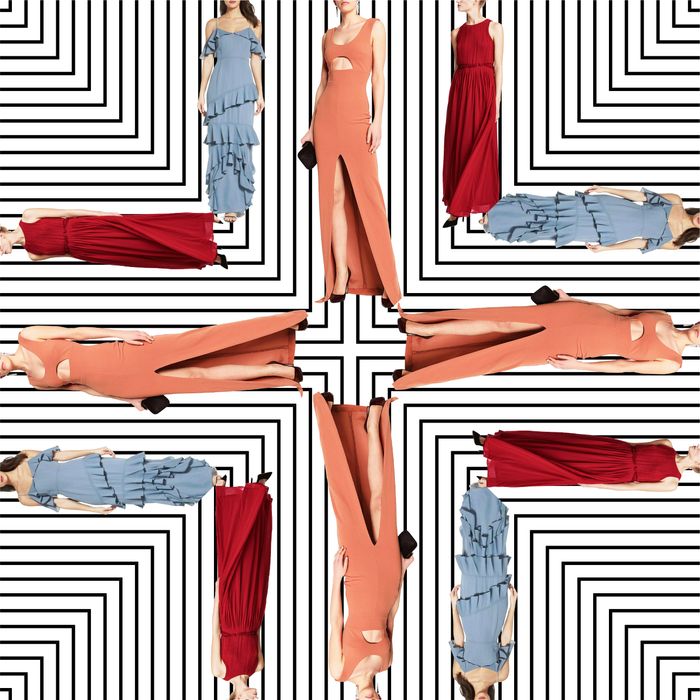 There are several advantages to being invited to a black-tie wedding: For one, a fancy venue usually guarantees cool Instagram photos. For another, you get to enjoy a lavish meal you wouldn't otherwise pay for yourself. But once you've mailed your RSVP card, there's that big, annoying question of what to wear.
While a formal dress code is a great excuse to dress up, buying the right outfit can get expensive. Elaborate gowns, even if they don't feature details like lace or rhinestones, can cost well upward of $500. Tack on shoes, accessories, and a bag and you're looking to spend even more on top of that. But you don't have to blow your budget to look black-tie appropriate. These 13 picks are stylish, well-made, and all cost $200 or less.
H&M isn't just for trendy pieces — it has a selection of black-tie-appropriate gowns like this one. The simple silhouette and pleating at the waist feel formal yet understated.
A cheerful floral dress feels right for a spring wedding, but too many of them come across as casual. The eyelet trimming and loose sleeves makes this one feel elevated.
Awards season maybe over, but you can still dress like an Oscar.
Photo: Brown, Indya
An ankle-length dress with a thigh-high split is much easier to dance in than a sweeping floor-length gown.
For That Ultra-Fancy Wedding
When the wedding venue is the Plaza Hotel.
Photo: Brown, Indya
The front is deceptively demure, but the back features a large cut-out for a dramatic exit.
If You Love to Show Your Legs
Photo: Brown, Indya
A black-tie dress code usually calls for a floor-length gown, but it is possible to go short and still adhere to the rules. Look for a dress in an expensive-looking print or a heavy material, like this one, which also comes with a formal-looking full skirt.
When You Need to Impress the In-Laws
Photo: Brown, Indya
The asymmetrical neckline is modest, but still full of personality.
If you've been working out a lot and you want everyone to know.
Photo: Brown, Indya
Wearing heels in the sand is always precarious. Should you opt for flip flops instead, the length on this gown will hide the evidence.
Because You're Sick of Ballgowns
This dress is sleek and fun, and you can repurpose it for your less formal weddings with a simple change of accessories.
For the Outdoor Summertime Wedding
Photo: Brown, Indya
If you're going to be sitting through a ceremony in 90-degree heat, you're going to want a light material to minimize sweating. Crepe is airy and flexible, so it's ideal for an outdoor wedding.
On the other hand, if your calendar is chock-full of March and April weddings, this dress is a winner. Because it's so simple, it'll look great paired with any fancy shoe.
If you buy something through our links, New York may earn an affiliate commission.