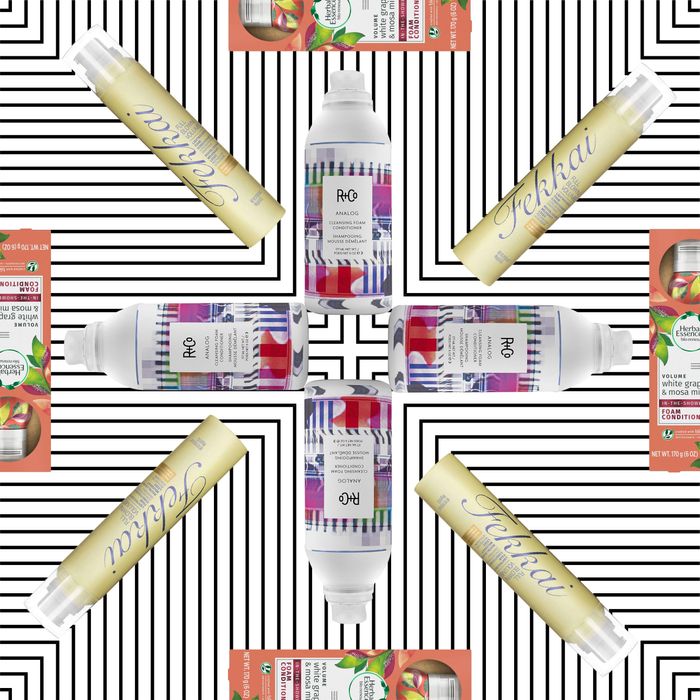 Conditioner is part of a healthy hair diet, but you know how diets go: sometimes they're difficult to follow. If you have thin, straight hair, traditional conditioners can be too heavy and make your hair look greasy and flat. There are plenty of lightweight conditioners on the market already, but the new foam conditioners are game changers. Think of them as a gift to anyone with thin hair.
In a foam conditioner, the ingredients are whipped into a super-light froth, rather than a heavy liquid. Even if you're not usually a conditioner person, they can fix damaged hair, restore radiance, and detangle. Below, we run through the best.
Fekkai's Full Blown Volume is one of the oldest foam conditioners around. It smells fresh, like citrus tea, and it easily washes clean.
If You're a Fragrance Snob
There are six foam conditioners in Pantene's new range. A micellar water conditioner works double-duty to ensure that lingering build-up is washed away as it conditions. Armed with zinc, "Classic Clean" helps fight dandruff, while "Breakage Defense" and "Radiant Color" infuse hair with light, shine-enhancing conditioners. "Daily Moisture Renewal," on the other hand, is perfect for those who frequently shampoo (if you must.)
Like Pantene, Herbal Essences' conditioners are varietal as well. There are four foams to choose from, and though they differ slightly in purpose (two are designed purely for light conditioning, and two specifically target volume), the most obvious distinguishing factor is their unusual scents. All four are exciting, but the "White Grapefruit and Mosa Mint" conditioner is the definitive standout.
The Foam Cleansing Conditioner
Drybar's "Double Standard" is like the fancy version of those 2-in-1 shampoo/conditioners you see in the drugstore. It uses volcanic ash for cleansing purposes and a slew of hydrators (like aloe, glyercin, and raspberry seed oil) to lightly condition.
The "Fashion Hair" Option
The people who make the holy grail of dry shampoos also make a heck of a foam conditioner. The fashion hair collective known as R+Co introduced "Analog," its foam conditioner, a few years ago. Like Drybar's, it also cleanses, but unlike Drybar's, it has a comforting, warm scent.
If you buy something through our links, New York may earn an affiliate commission.