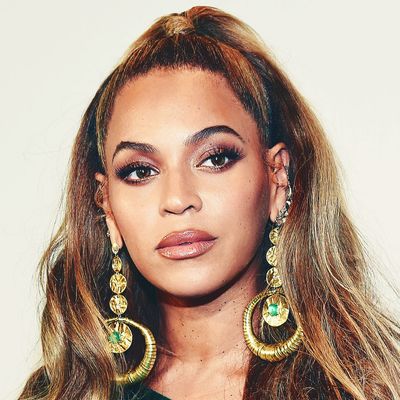 Beyoncé.
Photo: Kevin Mazur/Getty Images
Exactly one week after Beyoncé unveiled her On The Run II tour with Jay-Z, she graced us with her latest photo drop. Like all Beyoncé photo drops, it came in the form of three Instagram posts. Bey and Blue Ivy both wore entirely gold. Bey chose bronze-y lipstick, giant earrings, and a dress with a massive gold train. Blue Ivy took the head-to-toe approach literally, and paired her tiered dress with a gold, angular wig.
Beyoncé's dress was designed by Falguni & Shane Peacock, and Blue wore a custom dress by Annakiki with a custom wig by Divamp Couture. Even for Bey and Blue, the look is pretty spectacular. According to WWD, the adult dress was designed to look like Nubian armor and was inspired by the warrior queen Amanishakheto. Blue's custom wig also echoed a shiny gold helmet.
They wore their couture to Tina Knowles's (who also dressed in gold) second annual wearable art gala, which was themed Waco to Wakanda (in homage to Black Panther). Blue celebrated the night by bidding $19,000 on art.