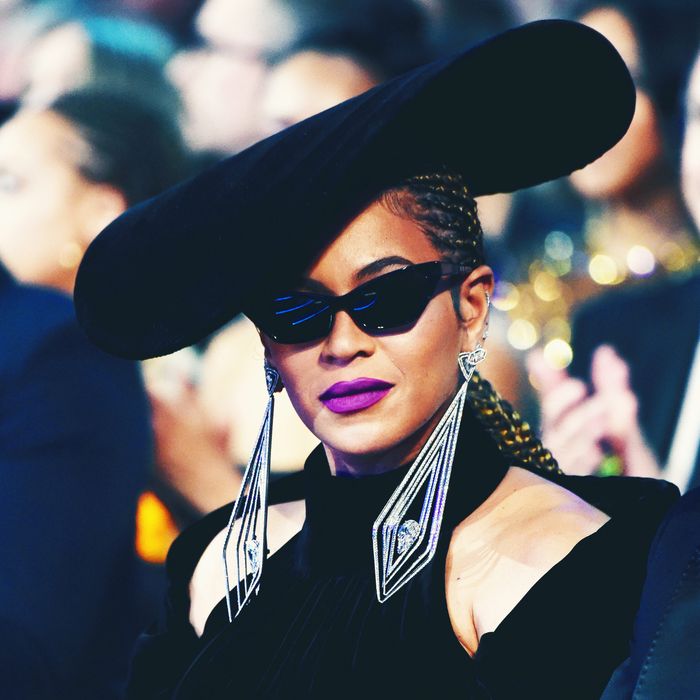 Beyoncé at the 2018 Grammy Awards.
Photo: Kevin Mazur/Getty Images for NARAS
Glossier hinted at it last month. On Grammy night the brand shared a photo of Beyoncé with the caption: "Beyoncé wears ___ in ___ (coming soon)." What was it? A mascara? Bronzer? Or even a new eyeliner? Now we can all stop the guesswork; Beyoncé was wearing Lidstar, Glossier's latest makeup introduction.
Glossier announced Lidstar today. The shimmery liquid eye shadow will arrive in six shades: Lily, a bright purple; Moon, an icy light purple; Slip, a pink; Cub, an iridescent maroon; Fawn, a soft lilac; and Herb, a shiny gold.
Tiffany Haddish, Tracee Ellis Ross, Maya Rudolph, Allison Janney, and director Great Gerwig all joined Beyoncé in the Lidstar club tonight and wore shades of the eye shadow to the Oscars.
You won't have to wait long until you can join them and make Lidstar yours. Sales for the eye shadow will begin tomorrow, Monday, March 5 on Glossier.com.