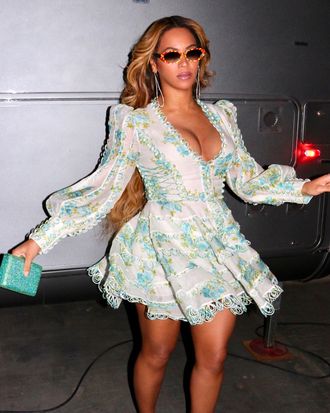 Beyoncé
Photo: beyonce/Instagram
Disney's highly anticipated film A Wrinkle In Time doesn't hit theaters for another week, but the floral minidress Beyoncé wore to the film's premiere has already set the Twittersphere ablaze. Made by Zimmermann, an Australian brand known for its heavy use of florals, the dress is already selling out — even though it costs the equivalent of a month or two of rent in New York City (it's $2,950).
Luckily, there are plenty of equally cute, far more affordable floral minidresses online right now. Below, we've gathered 13 springy dresses that will get you close to looking like the Queen herself. Scroll below to shop them all.
If you're averse to low cut dresses, this one features a more modest mock neck.
The cream, floral-print chiffon material, and A-line shape all mimic Beyoncé's dress.
If You Love Dramatic Sleeves
The sleeves can also be pushed off the shoulder for a sexier look.
The One That Looks Like Gucci
The flounces and ruffles read like Gucci — a brand of which Queen Bey is also an ardent fan.
The silhouette is slimmer, and the flowers look almost painted on.
To find a floral dress that you could wear everyday, look for one with a simple print. Throw it on with your Stan Smiths, or wear V-cut mules for a more formal occasion.
A light, breezy material for warm spring days.
When You Want to Twirl Like Bey
If you're not being photographed in motion, does it even count as a Beyoncé-inspired Instagram pic? The fringe hemline will make your photo even more extra.
Madewell has a knack for creating chic floral prints that don't look too dated. The soft green adds a bohemian flair.
The lace-up front and sheer sleeves capture the feel of the Zimmermann dress.
Don't be deceived by the conservative midi length; the front reveals two thigh skimming slits for a hint of skin.
The Eco-Friendly Wrap Dress
Cute, '70s-inspired, and sustainable.
If you buy something through our links, New York may earn an affiliate commission.