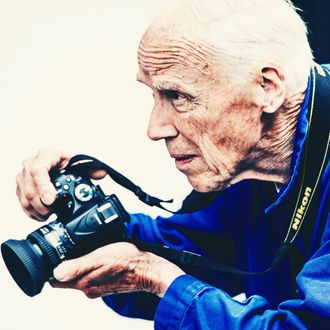 Bill Cunningham.
Photo: Noam Galai/Getty Images
Bill Cunningham, street-style pioneer and one of the humblest men in fashion, was also apparently a memoirist, too. According to a story published by the Times on Wednesday, the photographer wrote a "secret memoir" before his death in June 2016.
The Times likens this discovery to a "major archaeological revelation," since Cunningham was a private soul and never publicly divulged the manuscript's existence.
Cunningham's manuscript was discovered by his family, who sold it to Pengiun Press at auction. New Yorker staff writer and theater critic Hilton Als was asked to write the introduction, in which he refers to the book as having "Breakfast at Tiffany's flavor."
According to the Times, there is little about Cunningham's adult personal life in the memoir. Rather, the book — titled Fashion Climbing — recalls what led Cunningham to his place on the scene: wearing his sisters dresses at age 4, (which lead to a beating from his mother), his stint as a ladies milliner under the name William J, and his attempts to gate-crash New York Fashion Week.
Fashion Climbing fills in the gaps between Cunningham's upbringing in a Boston Catholic family, and his New York–style education. On one page of the manuscript, the Times found a doodle of a young Bill ascending a ladder, with a line attributed in the book to his mother: "What will the neighbors say?"
"For me, this book is really for those of us who came to New York with a dream and saw New York City as a real oasis of creativity and freedom, a place to be who we want to be," Christopher Richards, an editor at Penguin, tells the Times. "It's a really beautiful story about a young, artistic man finding his way in the city, in a particular kind of bohemian world that doesn't quite exist anymore."
Cunningham's memoir is expected to hit shelves in September.