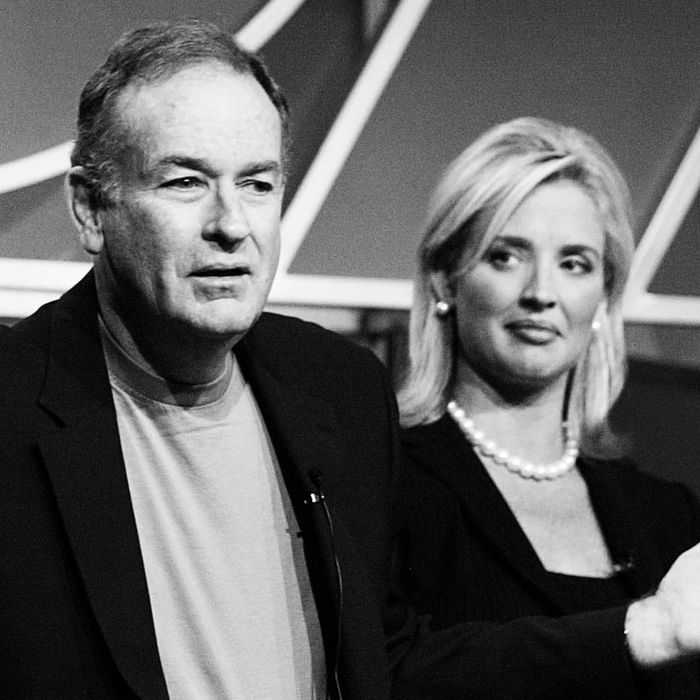 Laurie Dhue, the fourth woman to sue O'Reilly for defamation.
Photo: Kevin Winter/Getty Images
On Thursday, former Fox News anchor Laurie Dhue filed a defamation suit against Bill O'Reilly, claiming the disgraced ex–Fox News star damaged her reputation when he denied the sexual-harassment allegations she made against him.
Dhue, who worked at Fox News from 2000 to 2008, reached a $1 million settlement with 21st Century Fox in the summer of 2016, after her lawyers approached the company with sexual-harassment claims against O'Reilly and now-deceased Fox News chief Roger Ailes. After an April 2017 New York Times report on the network and O'Reilly's settlements with Dhue and four other women, the former O'Reilly Factor host vehemently denied the allegations against him, claiming he had only agreed to settlements to protect his kids.
In an excerpt from Dhue's lawsuit published in the Times on Thursday, her lawyer writes:
As part of his desperate campaign to clear his name, O'Reilly published false statements about Dhue — as well as the other women — calling her a liar, swearing that her allegations were fabricated in an effort to obtain a settlement, falsely asserting that her purported claims against O'Reilly were politically motivated and lying by saying that he only paid settlements to avoid having his family go through litigation, not because he had engaged in the claimed sexual misconduct.
The suit goes on to say that O'Reilly's comments damage Dhue's reputation as a credible journalist.
Dhue is the fourth woman to sue O'Reilly for defamation following his denial. In December, former Fox News producer Rachel Witlieb Bernstein filed suit against O'Reilly and Fox News, arguing that O'Reilly had violated the terms of their settlement when he claimed her harassment allegations were false and politically motived. Later that month, two more women joined Witlieb Bernstein's suit. Former O'Reilly producer Andrea Mackris and former Fox Business Network host Rebecca Gomez Diamond both reached settlements with O'Reilly after accusing him of sexual harassment (Mackris in 2004, and Gomez Diamond in 2011).
Earlier this week, O'Reilly filed a motion to dismiss the December lawsuit, calling the claims "frivolous and wholly unsupported in law or fact," and saying none of his statements would cause the women "public shame or ridicule."
In response to Dhue's lawsuit, O'Reilly's lawyer Fredric Newman said in a statement:
Dhue's filing has absolutely no merit. Mr. O'Reilly has never mentioned Dhue, and any attention she has received has been the result of her own actions. Mr. O'Reilly will defend himself in court fully and aggressively against all unfounded, opportunistic claims, and he will seek all appropriate legal remedies as well.
Dhue's lawsuit comes as many industries reckon with the use of nondisclosure agreements in sexual-harassment cases. On Monday, the Weinstein Company said it was ending all nondisclosure agreements that may have silenced women, and on Thursday, Washington governor Jay Inslee signed legislation that would prohibit employers from requiring employees who report sexual harassment or assault to sign nondisclosure agreements. At the signing ceremony in Olympia, Inslee told the crowd:
"The national 'Me Too' movement has sparked conversations in every corner of our country and is bringing to light how inadequate our laws, rules, and culture are when it comes to sexual harassment and assault."