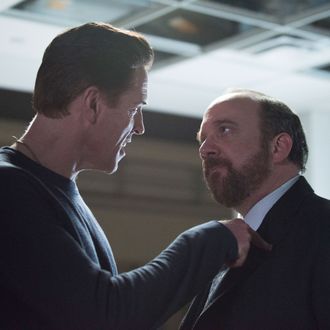 Bobby Axelrod (Damian Lewis) and Chuck Rhoades (Paul Giamatti) fighting while I yell "kiss!"
Photo: Jeff Neumann/SHOWTIME
On paper, Billions doesn't sound like a show for me. It's a drama about wheeling and dealing in the highest echelons of the finance world. It's a flea circus of toxic masculinity, a drawn-out pissing contest between two middle-aged men. Yet, despite the odds, I have become a Billions-head. And with the show returning for its third season on Sunday, I've been forced to confront a truth that lies deep within my socialist, feminist heart: Billions is my favorite show on TV.
For those unfamiliar, the show is fundamentally about the power struggle between Bobby "Axe" Axelrod (Damian Lewis) and Chuck Rhoades (Paul Giamatti). Axelrod is a billionaire who rose from a blue-collar upbringing in Yonkers* to become the manager of a mega-successful hedge fund called Axe Capital, which owes some of its success to insider trading and, uh, 9/11. Rhoades is a no-nonsense U.S. Attorney who's made it his personal mission to take down Wall Street criminals, and Axe is his white whale. We see the war between them unfold in a series of vicious battles, with thrilling twists, turns, and a whole lot of financial talk that I absolutely do not understand along the way.
Here's what I especially love about it.
Paul Giamatti achieving his full grumpy potential.
I'm a long time Paul Giamatti stan, in part because it's so fun to pronounce his last name in Giadi De Laurentiis's voice. I also admire the way his entire vibe can be summed up as "whatever the opposite of joie de vivre is." Remember that picture of him despondently riding the subway last summer? Paul Giamatti is the grumpy icon our nation needs, and a ruthless and oft-defeated federal employee with daddy issues and a huge chip on his shoulder is the perfect role for him.
Damian Lewis's tiny mouth.
That Damian Lewis, a posh British actor, is able to so convincingly embody the swagger his character requires is impressive. But even more impressive is how tiny his mouth is. I mean, look at it! I think about Damian Lewis's tiny little baby mouth at least two or three times a week, and even more frequently while Billions is on the air. And I have to admit, even though I'd want the real-life equivalent of his character thrown straight into prison for white-collar crime, I can't help but root for him and his tiny mouth on the show.
The non-binary financial wiz.
Last season, in a genius move that upended the general bro-iness of the hedge fund, the show introduced a truly compelling character: Taylor (Asia Kate Dillon), a young non-binary intern who quickly rises through the ranks to become Axe's protégé. With their buzz cut, whip-smart analysis, and quiet ambition, Taylor's one of the most intriguing characters to watch. Is this choice also a leftist critique of liberals who would rather support identity-based change within oppressive capitalist institutions rather than dismantle those institutions altogether? Probably not, but I can pretend.
Beloved actors from other prestige dramas get to stretch out.
Rachel on Mad Men and Gale on Breaking Bad were excellent characters on AMC shows who met their ends way too soon. Fortunately, respective actors Maggie Siff and David Costabile get far more screen time and no untimely deaths — yet! — on Billions. Siff stars as Wendy Rhoades, who has to balance her roles as Axe Capital's trusted in-house performance coach and … Chuck's wife and dominatrix (it's complicated). Meanwhile, Costabile plays Wags, Axe's right-hand man and a petite, fast-talking hedonist who happens to look exactly like the devil who'd show up on your shoulder in a pop of smoke and convince you to make a bad decision. I love them both very much.
Hilarious dialogue.
When I first started watching Billions, I found the combination of Wall Street clichés and general dick-swinging bravado off-putting. But, bolstered by a rich story line and captivating plots, I realized there's a smirking self-awareness to the whole charade. Characters are constantly speaking in clipped, candid paragraphs with actual lines like "What's the point of having fuck you money if you never say fuck you?" or "A good matador doesn't try to kill a fresh bull. You wait until he's been stuck a few times." It's over-the-top in a way that's also infectiously fun and gripping — and ultimately, it's entertaining to watch two grown men try to destroy each other.
*The original version of this article incorrectly stated that Axelrod is from Queens.